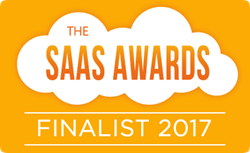 "Our award selection validates cleverbridge's efforts over the last 12 years to consistently be the leading all-in-one global commerce solution to acquire more customers, expand internationally and build online revenue." ~ cleverbridge CEO Christian Blume
Cologne, Germany (PRWEB) August 01, 2017
cleverbridge, a provider of global commerce, billing and payment solutions, has been named a finalist for the 2017 SaaS Awards in the Best SaaS Product for Ecommerce/Online Shopping category. Winners of the awards for excellence and innovation in SaaS will be announced on August 29.
Now in its second year, the SaaS Awards attracted over 300 entries from North America, Canada, Australia, U.K., Europe and the Middle East. The awards program focuses on recognizing excellence and innovation in software solutions. Finalists are selected by a judging panel of international industry experts. The Best SaaS Product for Ecommerce/Online Shopping award recognizes the software services – including ecommerce website plugins, customer-facing solutions or back-end organizational software – that have proven success in business improvement (e.g., increased efficiency, sales, conversions, usability, etc.).
"We're thrilled to be recognized by the SaaS Awards as one of the top global ecommerce solutions," said Christian Blume, CEO, cleverbridge. "As digital businesses expand globally, they realize that basic payment processors or subscription management solutions can not only limit them as they enter new markets, but worse, become a liability when it comes to things such as customer experience, compliance, taxation and fraud prevention. Our award selection validates this point and cleverbridge's efforts over the last 12 years to consistently be the leading all-in-one global commerce solution to acquire more customers, expand internationally and build online revenue."
cleverbridge was recently named a finalist for two 2017 European IT and Software Excellence Awards. (Enterprise Solution of the Year and Small and Medium-sized Enterprise (SME) Solution of the Year) and named in the "Accel EuroScape", a list of the top 100 most promising SaaS companies in Europe and Israel. The company was also named a finalist for 2016 SIIA CODiE Awards' Best Subscription Management Solution, and for 2017 Computing Digital Technology Leaders Awards' Best Place to Work in Digital - Large Organizations. cleverbridge has also been identified as a "High Performer" in the G2 Crowd Grid for Ecommerce Platforms, based on customer satisfaction and market presence.
To view the 2017 SaaS Awards finalists, visit https://www.cloud-awards.com/2017-saas-shortlist. To learn more about cleverbridge, please visit http://www.cleverbridge.com/corporate/grow-recurring-revenue-video.
About cleverbridge
cleverbridge provides flexible commerce solutions for monetizing digital goods, online services and SaaS. Our cloud-based commerce platform simplifies recurring billing, optimizes the customer experience and offers comprehensive global payment capabilities. Leveraging cleverbridge expertise, technology and services, clients effectively increase customer acquisition and retention while rapidly expanding into international markets for revenue growth. cleverbridge is headquartered in Cologne, Germany with offices in Chicago, San Francisco and Tokyo. For more information, visit http://www.cleverbridge.com.