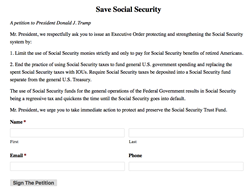 Most Americans would rather Social Security hold real dollars, not IOUs. Our petition urges the end of this practice
(PRWEB) August 16, 2017
Washington, D.C. based nonprofit The Seniors Center is petitioning President Donald J. Trump to strengthen and protect the Social Security benefits of American seniors by signing an Executive Order separating FICA payroll tax income from the U.S. Treasury's general funds and directing that these monies only be used to fund Social Security.
"Social Security tax money should pay for Social Security, and not be spent on other things. Current Social Security taxes do not cover the cost of benefits, and it's crucial that the Treasury repay," said Dan Perrin, president of The Seniors Center.
The petition echoes recent statements made by Senator Mike Enzi (R-WY) on the Senate floor: "The federal government puts those bonds in a drawer and spends the cash... I learned from trust funds that you have to find money to put in before you can take money out. Never saw a trust fund that operated that way until I got [to Washington]."
"The practice that Social Security taxes are spent on general U.S. Government expenditures and those monies are replaced with an IOU held by Social Security should end. Most Americans would rather Social Security hold real dollars, not IOUs. Our petition urges the end of this practice," said Perrin.
For a more detailed policy discussion, please see The Seniors Center's memo here.
"We view this petition as a gauge of public support for this idea, and will be watching its support closely. By taking their policy suggestion directly to the President, The Seniors Center will begin a nationwide online campaign to build signatures and support for the petition."
With the Congressional Budget Office projecting Trust Fund insolvency as soon as 2034, Mr. Perrin believes Americans are at a crossroads. Budget gimmicks must not be relied on when the solvency of the Social Security Trust Fund is officially projected to be in less than twenty-years.
The Seniors Center invites concerned Americans to join their effort to strengthen and protect Social Security by visiting their website and signing the Save Social Security Petition.
The Seniors Center is a program of Our Generation, a 501(c)(4) nonprofit organization.