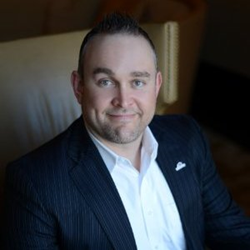 "We are excited about having someone of Caleb's caliber join the Envoy team and continue our growth in the Western Region," said Patty Trimble, EVP and CPO at Envoy.
Houston, TX (PRWEB) August 01, 2017
Continuing the growth momentum from the previous year, Envoy's production and branch growth have continued to break records during the first half of 2017. Production for the first half of the year closed in at an all-time high for funded retail units and for the highest daily funded volume.
Building on the strong production momentum, Envoy Mortgage also continues to strengthen their sales leadership with the addition of Caleb Mittelstet as Regional Vice President for Northern California and Nevada. Caleb has over 15 years of sales management experience in the industry, most recently having served as Division Sales Manager with CMG. Prior to that, Caleb held leadership roles with Prime Lending, Wells Fargo and Bank of America. He will be directly responsible for managing and developing production for Envoy's growing retail branch network in the west.
"Caleb is solidly anchored in the mortgage banking community and has a proven track record of strong performance," said EVP, Chief Production Officer, Patty Trimble. "We are excited about having someone of Caleb's caliber join the Envoy team and continue our growth in the Western Region," said Trimble.
The momentum refuses to slow down at Envoy Mortgage. With over 150 branch locations nationwide, the rapid coverage expansion across the US has created a buzz within local communities and within the mortgage industry, leaving those to wonder why so many top branches are gravitating toward Envoy.
To confidentially learn more about the Envoy opportunity, email recruiting(at)envoymortgage(dot)com.
About Envoy Mortgage:
Founded in 1997, Envoy Mortgage is an independently owned, full-service mortgage lender headquartered in Houston, TX. As a Fannie, Freddie and Ginnie approved seller/servicer, Envoy branches offer a full menu of loan products with locations across the U.S. In addition to the retail channel, Envoy operates its nationwide Correspondent Lending Division from Monroe, Louisiana and an in-house servicing operation at the Houston headquarters. Licensed in 49 states, Envoy branches provide outstanding customer service by offering a full menu of loan products with the tools, expertise and technology needed to support all functions of the mortgage process. For more information, visit http://www.EnvoyMortgage.com. Envoy Mortgage, Ltd. NMLS #6666.