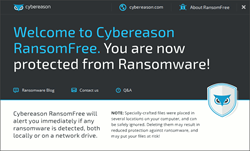 Boston, MA (PRWEB) August 01, 2017
Cybereason, the leading provider of behavioral-based enterprise attack protection, including endpoint detection and response, next-generation antivirus and active monitoring services, launched RansomFree Japan recently at SoftBank World 2017. RansomFree detects and stops NotPetya, WannaCry and more than 99 percent of ransomware variants from executing on computers and encrypting files. Today, more than 350,000 small businesses and individuals across the globe are using RansomFree.
During a keynote address at SoftBank World, Cybereason's CEO Lior Div introduced RansomFree Japan in a speech titled "Overcoming the Ever-Evolving Cyber Threat." SoftBank's President and CEO Ken Miyauchi also discussed RansomFree during his keynote address on day two of the conference.
"Small businesses and consumers are targeted by increasingly advanced cyber attacks, yet they typically don't have the knowledge or resources to defend themselves," said Shai Horovitz, CEO, Cybereason Japan. "RansomFree gives everyone a free and easy way to defend themselves from ransomware, one of the most pervasive cyber threats today."
RansomFree is the world's most widely used free anti-ransomware tool. RansomFree uses behavioral and proprietary deception techniques to target the core behaviors typical of ransomware attacks. It is designed to block never-before-seen ransomware in order to protect organizations against emerging ransomware threats. Once RansomFree detects ransomware attempting to encrypt files, it immediately stops the process.
RansomFree is the ideal anti-ransomware solution for consumers and small businesses such as law offices, police and fire departments, municipal governments, non-profit organizations, banks, medical offices, schools and mom-and-pop shops. In addition to protecting the PC on which it is installed, RansomFree stops ransomware from encrypting network shared drives. RansomFree is available for PCs running Windows 7, 8 and 10 and Windows 2008 R2 and 2010 R2. Support for RansomFree is available in the RansomFree Support Google Group.
To learn more about RansomFree Japan, visit: https://www.cybereason.co.jp/news/press-release/1425/
For more information on RansomFree, and to download the product, visit: https://ransomfree.cybereason.com.
Founded in 2012 by Lior Div, Yossi Naar and Yonatan Striem-Amit, Cybereason recently announced a Series D investment of $100 million from SoftBank Corp. This new financing solidifies Cybereason as the leading cybersecurity startup changing the status quo in the security industry, with 500 percent growth in revenue in the past year.
About Cybereason
Cybereason is the leading provider of behavioral-based enterprise attack protection, including endpoint detection and response (EDR), next-generation antivirus (NGAV), and active monitoring services. The Cybereason solution reduces security risk, provides complete visibility, and increases analyst efficiency and effectiveness. Cybereason partners with enterprises to gain the upper hand over adversaries. Cybereason is privately held and headquartered in Boston with offices in London, Tel Aviv, and Tokyo.
Learn more: https://www.cybereason.com/
Follow us: Blog | Twitter | Facebook | LinkedIn
Media Contact:
Bill Keeler
Director, Public Relations
Cybereason
bill.keeler(at)cybereason(dot)com
508-414-7755 (cell)