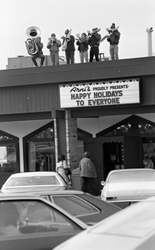 "Lasting 50-plus years in this industry is amazing, and you don't do it by just thinking of yourself. You take care of the community, and let the community take care of you," said Brad Cohen
Lafayette, Ind. (PRWEB) July 31, 2017
Arni's in Lafayette, Ind., has been inducted into the Pizza Hall of Fame, which celebrates America's oldest and most beloved pizza restaurants.
Created by PMQ Pizza Magazine, the world's authority on pizza, the Pizza Hall of Fame, located at http://www.PizzaHallofFame.com, pays tribute to the rich cultural history of American pizza and honors the perennially popular U.S. pizzerias that have been in business for 50 years or longer.
Arni's was founded in 1965 by Arni Cohen. Cohen purchased an existing Pizza King franchise, then another in 1971. He soon broke off to truly rule his own growing pizzeria empire, simply called Arni's. From the late 60's to early 80's, the original Arni's thrived as a rollicking entertainment hotspot. The pizzeria continues to grab attention from famous returning customers including Axl Rose, Drew Brees and Fuzzy Zoeller. Arni himself was involved with the company until his death in 2002. Cohen's sons, Kurt and Brad Cohen, now co-own the company.
Conceptually, the Pizza Hall of Fame has existed for nearly 10 years, since PMQ publisher Steve Green inducted Lombardi's Pizza in New York on November 1, 2005. The Pizza Hall of Fame website was launched in October 2014 as part of National Pizza Month. All inductees have been featured in the "Pizza Hall of Fame" section of PMQ's print magazine.
"Pizza is such an integral part of the American experience," Green said. "We wanted to commemorate its role in our culture. Every pizzeria in the Pizza Hall of Fame—and each one that will be inducted in the future—is a local landmark. These pizzerias are more than restaurants—they are institutions in their communities."
Visit http://www.PizzaHallofFame.com to learn more about the Pizza Hall of Fame. For more information about PMQ Pizza Magazine, visit http://www.PMQ.com.