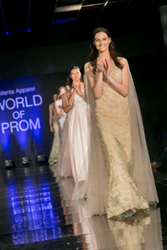 AmericasMart Atlanta is the premier Market in the world for showcasing gowns," says Jovani Vice President, Director and CFO Abraham Maslavi.
Atlanta, GA (PRWEB) August 01, 2017
Atlanta Apparel welcomes the global social occasion community to AmericasMart® Atlanta as its hosts the national prom and pageant Market, WORLD OF PROM ,Tuesday, August 1 – Saturday, August 5, 2017. With top designers and lines, new collections and trending styles at every turn plus evening fashion shows and can't-miss educational opportunities, WORLD OF PROM is the only social occasion Market prom and pageant buyers need.
The sixty-year-old Marketcenter expands its dominance of the social occasion industry with an additional 70,000 square feet of dedicated exhibition space opening at the Market. A stellar list of new lines are joining its collection, along with established WORLD OF PROM headliners expanding their footprints in the new Building 3,Floor 14 buying destination. Lines taking permanent space in the new collection include Lotus Threads, Jovani, Cachet, Mac Duggal, Ava Presley, ASHLEYlauren, Your Party Shoes, Primavera Couture, Merrily, Gemy Maalouf, Beside Couture by Gemy and Justin Alexander.
With a trend studio showcasing must-have looks for prom, pageant and quinceañera and a fully furnished resource center, Floor 14 connects buyers with the trends they need to know now in a comprehensive style not available anywhere else in the industry.
"The inaugural Floor 14 social occasion collection is simply spectacular," says Mary Sullivan, senior vice president of Leasing. "Inspiration, style and celebration radiate through the floor. It is truly a social occasion fashion destination."
"AmericasMart Atlanta is the premier Market in the world for showcasing gowns," says Jovani Vice President, Director and CFO Abraham Maslavi. "We are so successful in there that we need to expand our space to showcase more looks and continue to grow the line. AmericasMart supports us in this vision and has given us the platform to grow."
"Mac Duggal is so excited to unveil our awe-inspiring Spring 2018 collections in our new state of the art, timelessly modern showroom on the 14th floor," says owner and designer Mac Duggal. "We have always found WORLD OF PROM at AmericasMart to be a successful, strong, diverse market with savvy buyers from all over the world. It is always a pleasure working with the WORLD OF PROM buyers who are educated, fashion conscious, on-trend retailers who understand the complexities of the women's social occasion industry."
Market growth is not limited to Floor 14 with new and expanded showroom opening across the social occasion collection. Lara, 2Cute Prom by J Michael's, Kanali K and Sydney's Closet Plus Size Prom & Bridal debut new permanent showrooms, while Sherri Hill, Rachel Allan, Loré, House of Wu, Angela & Alison/Calla Blanche, ALYCE Paris, Clarisse, Saboroma, Colette for Mon Cheri, Tarik Ediz, Moonlight/Val Stefani and Sean Collection expand their spaces.
Complementing the permanent showrooms is an expansive temporary collection highlighted by nearly 30 new exhibitors, international lines including Ragazza Fashion (Mexico), Fidda (Turkey), Dulce Celia (India), Yana La Page (Turkey), Jadore Evening (Canada), Mascara Pour La Femme (United Kingdom) and an expanded presentation for SIFA Menswear.
Prom and pageant trends come to life in two runway shows in Atlanta Apparel's Fashion Theatre. The WORLD OF PROM Fashion Show features exhibitors from Floor 14 on Tuesday, August 1 at 6:15 p.m. and those from Floors 10 and 12 on Wednesday, August 2 at 6:15 p.m.
Market educational programming includes Sal Macaluso of eStyleCentral presenting "How Specialty Stores Can Survive + Thrive" and Jenny Shibue of Shibue Couture sharing "Strategies for Styling Beneath the Dress" on August 1. Linda Korman and Terry Alvar of "Seventeen Prom" present "'Seventeen Prom" Talks What's New, Now and Glam for Prom 2018" while Maslavi presents "Social Media Strategies for Social Occasion" on August 2.
WORLD OF PROM takes places Tuesday, August 1 – Saturday, August 5 with temporaries Tuesday, August 1 – Friday, August 4, 2017. Visit AmericasMart.com/WORLDOFPROM for more information.