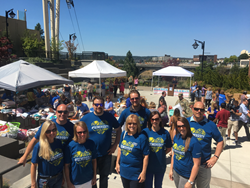 It's incredible how the NHS Builder Appreciation Week helps our region really come together and reinforce a team atmosphere.
Chicago, IL (PRWEB) August 02, 2017
Last summer, New Home Star kickstarted their first inaugural Builder Appreciation Week, during which over 300 sales professionals nationwide showed their utmost gratitude to the homebuilders that partner alongside their organization. This year, the firm upped the ante to further relay their appreciation through a multi-tier event recognizing everyone from the construction crews to the office staff, as well as the community in which they serve.
To kick off the week of celebration running from July 24-28, GEMerosity, a company-wide volunteer event, was created to allow agents to give back to the community in which their builder partners operate. "This single day of service was designed to get our sales agents to showcase just how important the local community is to builder operations," says Corporate Engagement Coordinator Annaliese Walsten. "We had an immense amount of participation, and it was great to see what organizations everyone chose to donate their time to and represent their builders at their GEMerosity event."
New Home Star agents also treated their builder teams to ice cream and pizza parties, branded YETI coolers, and thousands of handwritten thank you cards. "It's incredible how the NHS Builder Appreciation Week helps our region really come together and reinforce a team atmosphere," says Division President (FL) Robert Intille of Maronda Homes. "I am amazed to see how the New Home Star core values and culture have bonded with our organizational beliefs. I truly believe this directly contributes to the tremendous success in our region and myself personally; we all can benefit from this type of environment."
Dozens of stories were shared, detailing all of the amazing memories made and the unique initiatives that so many undertook to strengthen the relationships with the men and women who work each day to make the American Dream possible for buyers everywhere. New Home Star made Builder Appreciation Week one to remember, and the firm anticipates repeating this initiative for years to come. Explore the photos and stories from Builder Appreciation Week on our Facebook page.
About New Home Star
New Home Star is a national real estate sales management firm serving homebuilders and developers across North America. They recruit, select and develop sales teams with a full-time focus on new home sales, working with some of the largest homebuilders in the U.S. and Canada, as well as small and mid-size companies. With a network of local sales divisions from coast to coast, New Home Star delivers sales solutions for businesses with a national perspective and a local presence. Their business goal is simple: To Sell More Homes More Profitably™. For the latest updates on new home sales, follow @newhomestar.