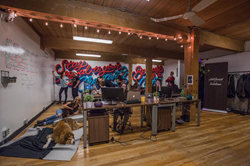 Artistic inspiration and collaboration is vital to a creative digital marketing agency
Vancouver, BC (PRWEB) August 01, 2017
AntiSocial Media Solutions lives by the fact that art is vital to their business, clients and community. As a digital marketing agency, their team includes local artists such as graphic designers, photographers and videographers. They also look outside of their agency for local artists to collaborate with or take inspiration from. In turn, this helps the them realise their clients' artistic vision. This is why the AntiSocial team always looks to support artists around Vancouver and across Canada.
Mural Artists for Daily Inspiration
AntiSocial has collaborated with two Vancouver mural artists for the interior of their previous and current offices. By installing a giant mural in their workspace, this agency has a daily reminder of why they're there in the first place.
Jamie Bizness - Mural and Tattoo Artist
In their original Gastown office, Jamie Bizness was commissioned to paint a floor-to-ceiling mural. Featuring a black charcoal aesthetic, the mural captured a drones-eye view of downtown Vancouver and the AntiSocial office. "I work mainly at my tattoo shop that I share with the Lords of Gastown," said Jamie Bizness, "I use lots of different mediums to create art. I guess my idea is to put art everywhere on anything. And a lot of my inspiration is from the subconscious mind and nature."
Meghann McGrath - Mural and Projection Artist
Going under the alias MEGA, Mcgrath is well-known for her signature calligraphy. "A couple years ago I started a street-art based project called 'Street Script', that took lyrics from iconic rap songs and turned them into wheat pastes." She recently painted the mural in their new Yaletown office and AntiSocial co-founder/partner Daryl Louie had this to say: "In a creative industry, it's paramount to be surrounded by inspiration in your environment. AntiSocial and Mega had actually collaborated on a project in 2016... I thought we could do something together again, but this time, on a 25-foot wall. The colour, depth and size of this mural was the perfect art installation..."
Watch the mural creation video on Youtube
About AntiSocial Media Solutions
AntiSocial Media Solutions is a digital branding and marketing agency that grows the online presence of companies across Canada and internationally. Founded in 2012 in Vancouver with a growing team in Toronto, they have expansion plans for other major Canadian cities. AntiSocial offer a range of services including social media, content marketing, photography, video production, branding, graphic design, website development, media buying, online advertising and consulting. Their team specialises in creating an authentic connection between clients and their customers, as well as storytelling through affordable social video production.