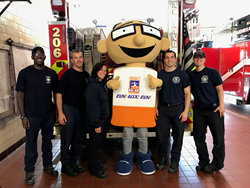 This year's race organizers decided to celebrate Chris' recovery and pay tribute to those who saved his life.
Alexandria, VA (PRWEB) August 01, 2017
1. Because Sundays are made for running. This year's race, September 24 at 8:30 AM, will celebrate 10 years giving back to the community. The 5K will start and finish at the south end of Main Line Boulevard circle in Alexandria, VA 22301. A hop, skip, and a jump from the Braddock Road Metro. Registration information and early bird registration can be found here.
2. Giving back to the community is a good thing. All proceeds from Run! Geek! Run! 2017 will go directly to support the Alexandria Firefighters Helping Hands Relief Foundation. The Foundation's mission is to provide timely financial assistance to Alexandria Firefighters and their immediate families who incur a qualifying undue hardship.
3. To show thanks for saving a life. On Tuesday, January 31, Chris Metsala — a son, husband, father of two young children, and brother-in-law/neighbor to the race coordinators — collapsed from cardiac arrest at Braddock Rd Metro station while waiting for the next train to take him to the Pentagon. Fortunately, a good samaritan immediately began CPR while a Metro officer grabbed a portable AED. Together they worked on Chris until Alexandria EMS/Fire arrived at the scene. Using a more powerful defibrillator they brought Chris back to life and immediately transported him to INOVA where he underwent life-saving surgeries. This year's race organizers decided to celebrate Chris' recovery and pay tribute to those who saved his life.
4. Work local, donate locally. Ironistic, a premier website development and online marketing company, and Hudson Studio, a visual communications firm providing graphic design services, based in Old Town Alexandria are the presenting sponsors of the race. To date, the following sponsors have committed for this year's race: HudsonLake, Amify, Axis Research, Buchanan Edwards, DAI Solutions, Fitness on the Run, Hillenby, Kadie Solutions, KWC, LMI, National Media, Purple Strategies, Veatch Charitable Fund and W2 Communications. These local businesses firmly believe in supporting their local community. With participation from runners and sponsors, who have roots in the Northern Virginia and the DC area, Run! Geek! Run! 2017 will raise money to support local firefighters who require aid often not available through insurance or assistance programs.
5. Bobbleheads. Just Bobbleheads. That's right, we'll be handing out coveted Eugene bobblehead awards to the top three male and female finishers in 5-year age groups, as well as trophies to the top three corporate and community teams. Are you walking (or running) away with one this year?
For more information about the race and reasons why you should be running with us, visit https://rungeekrun.com/frequently-asked-questions/.
About Alexandria Firefighters Helping Hands Relief Foundation
The Helping Hands Relief Foundation (afdlocal2141.org) was established in 1999, when a fellow coworker was faced with a debilitating medical crisis. Fellow firefighters and paramedics donated time and money; they provided everything from food, lodging and clothing to transportation for the coworker and their family. It was during this experience that the members realized the need for a fund to support similar future situations.