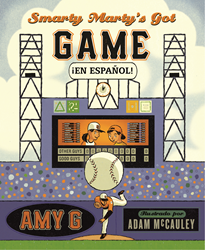 Petaluma, California (PRWEB) August 01, 2017
Now available for the first time in Spanish, Amy Gutierrez's 2013 picture book, Smarty Marty's Got Game, tells the inspiring story of older sister Marty, who teaches the game (and love) of baseball to her younger brother Mikey. Marty has always loved baseball and is known as "Smarty Marty" to her friends at school because she knows more about baseball than most grown-up baseball fans. However, her younger brother, Mikey, couldn't be bothered and just doesn't get it . . . Until, Marty and Mikey attend a real baseball game, where Marty gradually teaches Mikey the ins and outs of baseball, the lingo, strategy, and more, often using real-life examples so Mikey can better understand. Before long, Mikey is no longer solely interested in the salted pretzels and garlic fries of the ballpark but is soon engrossed in the game and cheering along with his older sister.
Amy G's story appeals to both boys and girls and also defies the strong gender stereotypes that Amy herself has battled in her 20-year career as a sports journalist and reporter.
SMARTY MARTY'S GOT GAME: ¡EN ESPAÑOL!
Author: Amy Gutierrez
Illustrator: Adam McCauley
Publisher: Cameron Kids (a division of Cameron + Company)
ISBN: 978-1937359515
Format: Hardcover, 40 pages, 11 x 9
Publication Date: August 22, 2017
Distributor: PGW/Perseus
Retail: $17.95
Ages: 4 to 8
Amy Gutierrez is the San Francisco Giants in-game reporter for NBC Sports Bay Area. 2017 marks the 10th anniversary of Amy covering the SF Giants on the network. Raised in Petaluma, California, Amy G, as she is known, spent her childhood watching or playing sports. She learned to score baseball from her mom, to play baseball from her dad, and to love baseball from her grandmother. She is the author of the new chapter book Smarty Marty Steps Up Her Game, a follow-up to this picture book, and Smarty Marty's Official Gameday Scorebook.
Adam McCauley enjoys illustrating, playing music, and making things. His illustrations have appeared in magazines, publications and campaigns worldwide. He works out of his studio in the sunny Mission district in San Francisco.
Cameron Kids, the children's book imprint of CAMERON + COMPANY, publishes kids' books for all ages. We have a small and growing list of thoughtfully curated, acquired, and produced titles. With an emphasis on beauty, simplicity, and story, we are carrying on the Cameron tradition of books that need to be books – for kids! http://www.cameronbooks.com