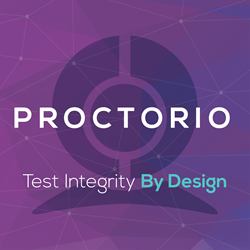 With Proctorio's unscheduled, automated proctoring, students have the choice of when to take their exams...without scheduling fees or additional logins.
Scottsdale, AZ (PRWEB) August 02, 2017
Proctorio announced today its partnership with the University of Minnesota to provide online learners with identity verification, exam integrity, and 24/7 customer support. The University of Minnesota, a public research University with over 51,000 students, is partnering with Proctorio, the world's most advanced automated proctoring solution, to validate student identities and activity during online exams.
Proctorio will provide online proctoring with flexible exam settings and recording options to instructors at UMN to ensure a level playing field for all online students. Proctorio's military grade data encryption technology will protect student privacy while allowing single sign-on convenience for faculty and eLearners.
The University of Minnesota now offers close to 40 online and blended learning programs through its five campuses, providing educational access to both local and distance learners. Over 1,600 courses are available online. During the 2015-16 academic year, more than 22,000 students took at least one online course. UMN recently announced that it is moving its online program from the Moodle course management system (CMS) to the Canvas learning management system (LMS) by Instructure.
Co-founder/CEO of Proctorio, Mike Olsen, described the new partnership as "Another example of the University of Minnesota's leadership in eLearning and academic integrity." He continued, "We look forward to helping UMN continue to expand its online offerings while raising the bar for online education around the globe." When asked about UMN's recent move from Moodle to Canvas, Olsen smiled, "We integrate seamlessly with both...Proctorio can offer single sign-on integration with any LMS on the market."
The College of Continuing Education at the University of Minnesota is facilitating the Minnesota eLearning Summit on August 2-3 at Normandale Community College in Bloomington, MN. K-12, college and university educators and innovators will share and promote best practices for online and blended learning. Proctorio is an exhibitor at the Minnesota eLearning Summit.
Proctorio's Director of Education, Judson Garrett, emphasized Proctorio's convenience for online faculty and learners, "Proctorio supports academic integrity in online education while providing greater flexibility for instructors, coordinators and students. With Proctorio's unscheduled, automated proctoring, students have the choice of when to take their exams--within the parameters set by their instructors, of course--without scheduling fees or additional logins."
Proctorio features that help institutions increase academic integrity while protecting student data include:
-Unscheduled proctoring
-Immediate suspicion reports
-Admin dashboard
-Aggregate exam data
-Customizable settings
-Single sign-on LMS integration
-Data encryption
-Student privacy protections
About the University of Minnesota: Founded in 1851, The University of Minnesota is considered one of the U.S.'s "Public Ivy" universities for its outstanding collegiate experience. UNM is ranked 14th overall among leading U.S. research universities by the Center for Measuring University Performance (MUP) at Arizona State University, and was ranked 33rd in the world by the Academic Ranking of World Universities (ARWU) in 2016.
About Proctorio: Proctorio is a fully automated, remote proctoring service that provides a scalable, cost-effective solution to validating student identities and activity during online exams. Proctorio's customizable exam settings allow instructors to set-up unscheduled, on-demand exam proctoring specific to their own assessment needs. Proctorio levels the playing field for students by increasing accountability, deterring cheating, and promoting a culture of academic integrity while improving learning outcomes.
Source: Proctorio