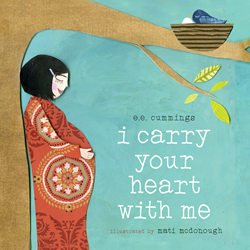 Petaluma, California (PRWEB) August 02, 2017
I CARRY YOUR HEART WITH ME
Written by E. E. Cummings
Illustrated by Mati McDonough
"This endearing and enduring expression of love makes a gentle bedtime book or sweet sharing anytime." – Booklist
I Carry Your Heart With Me is a children's adaptation of one of E.E. Cummings' most beloved poems, beautifully illustrated by Mati McDonough. In the spring of 2014 Cameron Kids released a picture book interpretation; this year we offer Cummings' verse and McDonough's whimsical artwork in a petite board book format, perfect for ages one to five.
Showing the strong bond of love between mother and child, within nature and throughout life, Cummings' heartfelt words expressed through McDonough's lovely illustrations combine to create a fresh, yet classic, portrayal of love.
I CARRY YOUR HEART WITH ME
Written by: E.E. Cummings
Illustrated by: Mati McDonough
Publisher: Cameron Kids (a division of Cameron + Company)
ISBN: 978-1-944903-20-6
Format: Board book, 24 pages, 6 x 6
Publication Date: August 22, 2017
Distributor: PGW/Perseus
Retail: $8.95
Age Range: 1 to 5
E.E. Cummings (1894-1962) was among the most influential, widely read, and revered modernist poets. His many awards included an Academy of American Poets Fellowship, two Guggenheim Fellowships, and the Bollingen Prize. Among his many volumes are The Enormous Room and Tulips & Chimneys.
Mati Rose McDonough lives in San Francisco where she regularly encounters lucky elephants, talking birds, and a mysterious girl who always wears feathers in her hair. McDonough studied painting at the California College of the Arts and has had many shows around the country. She has been featured in several magazines and books including Artful Blogging magazine and The Handmade Marketplace.
Cameron Kids, the children's book imprint of CAMERON + COMPANY, publishes kids' books for all ages. We have a small and growing list of thoughtfully curated, acquired, and produced titles. With an emphasis on beauty, simplicity, and story, we are carrying on the Cameron tradition of books that need to be books – for kids! http://www.cameronbooks.com