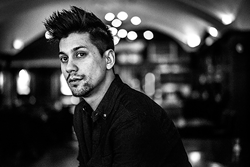 Top Chef Judge Jermain de Rozario comes to Aruba
Chapel Hill, NC (PRWEB) August 02, 2017
Aruba's culinary scene took a leap this weekend when esteemed Chef Jermain de Rozario graced the island and served up dishes truly scrumptious at Windows on Aruba. The restaurant, which is located at Divi Village Golf & Beach Resort, has long been renowned as one of the best on the island, combining impeccable fine dining with spectacular 90 degree views of The Links Golf Course, and the azure Caribbean ocean beyond.
Making a special appearance for two dinners, July 29 and August 5, and a luncheon, August 4, guests have the opportunity to taste Chef Jermain's amazing culinary skills, and meet the man up close and personal as he describes each dish, and mixes and mingles with patrons throughout the gastronomic experience.
Menus featured such dishes as Lobster – mango chutney – pumpkin meat – paksoy and fennel, Wagyu steak tartare - cream of boiled egg yolk and radish, and Coconut – rose syrup, aloe vera and strawberry.
Chef Jermain de Rozario, who worked under Chef Soneil Badhoer from The Lindenhof (2-star Michelin), has now opened his own restaurant, De Rozario, in Holland. Chef Jermain cooks with his own unique style, crossing boundaries by combining classic recipes with his love of Indonesian flavors.
In the past year, he has been a judge for Top Chef and has received a Bib Gourmand. In Holland, he is currently featured in a television program called De Nieuwe Garde, which follows several of the country's up-and-coming chefs and sommeliers. In addition to this recognition, he also recently became a member of the JRW, an association of talented young gastronomes with 350 members and 160 hotels spread across 16 countries.
Windows on Aruba is open every night for dinner, 6pm to 10pm and Sunday Brunch (served a la cart with one seating only starting at 10:30am to 2pm). Sunday Brunch, which has won "Best on Aruba" year over year, is served with endless mimosas and the sounds of jazz. For anyone interested in securing a reservation for August 4 and 5 Rozario Event, please call 297-523-5017 or email clubhouse(at)diviresorts(dot)com.
About Divi Village Golf & Beach Resort
Divi Village Golf & Beach Resort is one of 5 Divi Resorts on the island of Aruba. It is home to Divi Links Golf facility which features a 9-hole golf course, golf clinic, driving range and tennis academy. The resort has 4 freshwater pools, 4 restaurants and 4 bars, comfortable studio, 1-bedroom and 2-bedroom suites, and many other amenities and features. For more information on Divi Village Golf & Beach Resort, or any Divi Resort or Aruba Barbados, Bonaire, Saint Croix and St. Maarten, call 1-800-367-3484 or visit http://www.diviresorts.com. Use of the Divi Resorts registered brand is licensed.