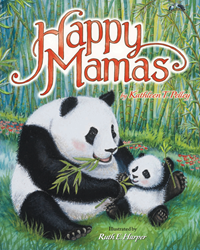 Mamas and babies everywhere will delight in this happy romp – a perfect ode to Motherhood
Evergreen, Colorado (PRWEB) August 01, 2017
Brook Forest Voices produced and is distributing a delightful production of "Happy Mamas" by Kathleen Pelley as an audiobook for children that captures the universal joys of mothering in the animal and in the human kingdom. The audiobook will be available as an mp3 download through all of BFV's normal world-wide distribution channels and directly from the BFV Audiobook Store whether you are purchasing for yourself, retail store, or library.
Kathleen Pelley's authentic Scottish voice is woven with BFV's magical sound effects and music to bring to life all the activities that give joy to a mama and her baby over the course of a day: feeding her little ones bundles of bamboo shoots, teaching her calf how to trumpet loud a jungle cheer, playing peek-a- boo, watching her little ones fly from the nest, singing a serenade to the man in the moon, or crooning owly lullabies through the deep dark woods. Mamas and babies everywhere will delight in this happy romp – a perfect ode to Motherhood.
About Brook Forest Voices: a complete audio production studio located just west of Denver in Evergreen, CO, specializing in audiobook narration, production, publishing and distribution. Authors and publishing companies wanting to learn more about BFV services can visit http://www.brookforestvoices.com or contact Jaime Andrade, BFV Business Manager at 303-670-4145.