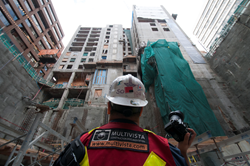 Multivista provides a forever set of eyes behind the walls and ceilings, and below the slabs, that help prevent shoddy workmanship requiring expensive rework and the lengthy lawsuits that accompany it
Phoenix, AZ (PRWEB) August 03, 2017
Multivista has brought its pictures over interactive floorplans to northern New Jersey due to the booming development occurring along the Hudson River.
Veteran franchise owners—Joe Ferro and Michael Niswender— have extensive history servicing New York, Connecticut, Massachusetts, and now, New Jersey. Since 2008, Ferro and Niswender's local "boots on the ground" team have captured and serviced more than 850 construction projects in the Northeast.
"Jersey City is ripe with development as well as cities like Hoboken and Weehawken along the Hudson. This area has been dubbed the Gold Coast because of the amount of occurring and proposed development," says Niswender. "Since New York City has maxed out for new areas to build, New Jersey will be the next growth boom as a suburb of the city."
Over the past decade, Millennials have flocked to cities, but with rent in Manhattan and Brooklyn surging, younger generations are looking to New Jersey as their new residence due to the proximity to New York City and the mass transportation options available.
With the growing demand and generous tax incentives, developers are rushing to build— 6,000 units of housing are currently under construction, and another 18,000 have been approved. On the Hudson River waterfront, between Fort Lee and Bayonne alone, there are over thirty residential construction projects currently in progress, one looking to be the tallest high-rise in the Garden State.
Although the market has increased from 12,421 permits for new residential buildings issued in 2009 to 28,119 in 2014, this number is still drastically less than what the state saw a decade ago, before the market crash. Developers believe the amount of new construction will keep pace with the growing demand, ensuring not to be as reckless as it was leading up to The Great Recession. Those developers are now leveraging advancing technology and construction software, like Multivista, to stretch their investment dollars further.
Multivista photo documentation, "provides 'a forever set of eyes' behind the walls and ceilings, and below the slabs, that help prevent shoddy workmanship requiring expensive rework and the lengthy lawsuits that accompany it," stated Ferro.
Ferro and Niswender are currently offering Multivista's full-suite of visual construction documentation options throughout their region, including the company's most requested offering—MEP Exact Built, which captures inspection-grade images of the mechanical, electrical, and plumbing systems, while they are still exposed, in the critical post-inspection phase. The institutional memory that this visual documentation creates has been proven to reduce the cost of construction and mitigate the inherent risk that accompanies any project.
For more information, please contact Nick Schooley, Multivista New Jersey, at 607-423-2973.

Multivista, part of Hexagon AB, has been contracted on over 2 billion square feet of construction projects worldwide and is trusted by the industry's leading companies to mitigate risk, create efficiencies, and deliver a higher level of project insight throughout a building's lifecycle.
Multivista offers a full suite of visual construction documentation services on an intuitive cloud-based website platform with local boots-on-the-ground support in over 70 international markets. Along with streaming webcams, professional facility management videos, and virtual walkthroughs, the company delivers interactive as-builts by linking inspection-grade photos to architectural plans to capture every project with exceptional clarity.
Reference
Brenzel, K. (2015, February 18). N.J. 'Gold Coast' building fueled by economy and proximity to NYC, experts say. Retrieved from http://www.nj.com/hudson/index.ssf/2015/02/construction_boom_a_look_at_the_uptick_in_new_deve.html#incart_river
Bindelglass, E. (2016, August 26). 30+ Developers transforming New Jersey's Hudson River Waterfront. Retrieved from
http://ny.curbed.com/maps/new-jersey-hudson-river-development-map