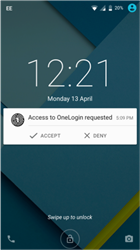 With OneLogin Protect, users can accept MFA requests with two taps on their phone or one tap on their watch. It couldn't be more simple.
San Francisco, Calif. (PRWEB) August 01, 2017
OneLogin, the identity management provider bringing speed and integrity to the modern enterprise, today announced the release of OneLogin Protect, a minimally-intrusive multi-factor authentication solution designed to increase security and productivity for OneLogin customers.
Companies today are quickly moving to multi-factor authentication to increase application security beyond single-factor authentication. This has caused a reduction in productivity, as users are required to authenticate themselves manually by entering in a one-time password code sent to their mobile device before they can gain access to company applications.
OneLogin Protect simplifies this process by displaying MFA Access Requests as a notification. Users can tap on the notification from their lock screen, which then prompts them to "Accept" or "Deny" the access request and verify through Touch ID. The entire process requires no more than 5-10 seconds, reducing the level of interruption to allow users to return to peak productivity sooner.
"There is nothing more annoying than having to stop what you are doing for an MFA access request. Like all users, we wanted to reduce these constant interruptions in our workday," said David Meyer, vice president of product, OneLogin. "That's why we set-out to build a more streamlined MFA experience. With OneLogin Protect, users can accept MFA requests with two taps on their phone or one tap on their watch. It couldn't be more simple."
In addition to using a user's mobile device, OneLogin can send access requests to a user's Apple Watch or Android Wear that are paired with a phone running OneLogin Protect. This allows users to simply touch a notification on their watch to authenticate themselves. OneLogin Watch MFA is another way OneLogin is helping users return to productivity faster than ever before.
OneLogin Protect is now generally available for Android and iOS phones and watches. To download OneLogin Protect from the iOS app store, please visit: https://itunes.apple.com/us/app/onelogin-protect/id509252983?mt=8.
Resources
Blog: What to look for in Multi-factor Authentication
Product Page: Modern Multi-Factor Authentication (MFA)
Documentation Page: Multifactor Authentication
About OneLogin, Inc.
OneLogin brings speed and integrity to the modern enterprise with an award-winning single sign-on (SSO) and cloud identity and access management (IAM) platform. Our portfolio of solutions secures connections across all users, all devices, and every application, helping enterprises drive new levels of business integrity, operational velocity, and team efficiency across all their cloud and on-premise applications. OneLogin manages and secures millions of identities around the globe. We are headquartered in San Francisco, California.