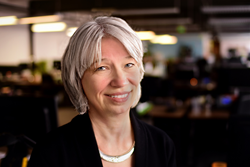 "At TechSoup, we believe that strengthening the civil society community is the best option for addressing the anxiety and sense of displacement that is spreading across the globe." Rebecca Masisak, CEO of TechSoup
San Francisco, California (PRWEB) August 01, 2017
In the August 2017 edition of The NonProfit Times, TechSoup CEO Rebecca Masisak was honored as one of the nonprofit sector's top 50 most influential leaders. The NonProfit Times annually highlights 50 of the sector's leaders for innovation, influence on the broader sector, and development of organizational models that can be modeled and replicated.
Masisak has guided more than 200 TechSoup employees in enabling more transparent, accountable governments; connecting a global network to spur local technology innovation; designing and building apps for social good, serving as a trusted steward of civil society data and streamlining international grantmaking, in addition to administering TechSoup's well-known and respected product donation program.
"At TechSoup, we believe that strengthening the civil society community is the best option for addressing the anxiety and sense of displacement that is spreading across the globe," said Masisak. "This award is shared with our staff, our global partner network, our donation partners, and, of course, with all the NGOs around the world."
Masisak will receive the award at the 13th annual NPT Power & Influence Top 50 Gala on Thursday, September 14, 2017 at the National Press Club in Washington, DC.
###
About TechSoup
TechSoup provides the transformative technology solutions, the digital platforms, and the in-person experiences that enable people to work together toward a more equitable world.
With 70 partner NGOs around the world, TechSoup manages the only global philanthropy program that brings together over 100 tech companies to provide technology donations to NGOs everywhere. TechSoup's data and validation services enable companies, foundations, and governments to connect their philanthropic resources with vetted NGOs around the world. In the past 30 years, TechSoup has reached 937,000 NGOs and distributed technology products and grants valued at more than $9 billion. http://www.techsoup.org
PR Contact:
James Nickerson
TechSoup Director of PR
415-633-9367