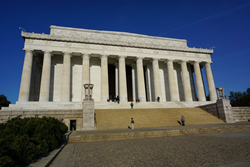 Unity in prayer upholds the fabric of our nation and brings peace to our neighborhoods. Lewis Hogan, United Cry DC17
Arlington, TX (PRWEB) August 01, 2017
News reports and polls confirm that 77% of Americans feel the country is divided and split over important values. (USA Today 11/21/2016 Gallup poll). For most communities, Sunday morning is the most divided time of the week. However, during the Revolutionary war, pastors were the key to uniting communities. Building on this historical tradition, United Cry DC17 is hosting a 3-hour Pastor's prayer event for America on October 7th from noon-3 during the Awaken the Dawn event on the National Mall.
"In times of America's greatest conflict, pastors have been the true community leaders," states Lewis Hogan founder of United Cry. "We are challenging pastors to unite in prayer and purpose to help heal our nation. Only a united church can heal a divided America."
The United Cry DC17 is a nationwide invitation to pastors, Christian leaders, churches and individuals from all Christian streams. During the October 7th prayer event, the focus will highlight issues such as:
a. Repentance for division
b. Prayer for unity of spirit and focus on biblical values
c. Healing of America and call for spiritual revival
"Unity is more than a principle, it is a spiritual command", explains Hogan. "Jesus prayed many times that his believers would be one. United Cry is helping pastors unite communities with prayer, love and service."
National leaders from diverse ministries will lead the 3-hour prayer gathering including Doug Stringer, Rick Curry, Dave Kuball, Lisa Crump, Bishop Harry Jackson, Allan Parker, Dick Eastman, Bishop E.W. Jackson, Kay Horner, Kevin Jessip and Dan Cummins.
United Cry was the host for the first national prayer gathering for pastors at the Lincoln Monument on April 9th, 2016. This historical gathering was part of a national bridge of prayer and focused on prayers for America, spiritual revival, racial unity and racial reconciliation that included a foot-washing.
"When pastors pray as one nation under God, it is our greatest hope that heaven will hear and help us reclaim the future of our nation," states Hogan. "Unity in the spirit provides a net which upholds the fabric of our nation and restores peace to our neighborhoods."
All pastors, Christian Leaders, and believers are invited to join United Cry at this historic, multi-ethnic, multi-generational, gathering on October 7, 2017 from 12 noon to 3 :00 p.m. at the National Mall in Washington, D.C.
For more information visit UnitedCry.org.
United Cry DC17 was founded by Lewis and Rachel Hogan in 2012 to equip pastors and start a movement of unified prayer and civic action that will kindle spiritual awakening and help reclaim America's future. United Cry believes that only a united church can heal a divided nation.
Awaken the Dawn (ATD) Is a 24/7 prayer, worship and music gathering Oct. 6-9 at the National Mall in Washington D.C. There will be over 62 tents filled with separate worship activities. The event will conclude on Oct. 9th with The Call event.