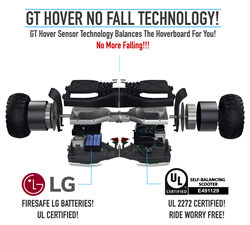 (PRWEB) August 03, 2017
GT Hover today announced the newest innovation in hoverboard technology. This Los Angeles based company has long been a reputable source for quality and safe hoverboards. Now, the company is adding to its 8.5" hoverboards a "No Fall Technology", making the GT products even safer for consumers.
Each All-Terrain hoverboard by GT Hover comes equipped with a sensor. This sensor acts to modulate the board, disallowing it to tip either forward or backward. The GT Hover "No Fall Technology" ensures the safety of riders of all ages, and is just one of many safety features standard to GT Hover products.
The hoverboard industry has recently been the target of much criticism. Inferior manufacturers' products have been reported to catch fire while in use, with some hoverboards even being banned from cities. This is not the case for GT Hover hoverboards. The company utilizes LG or Samsung Firesafe UL certified batteries, eliminating the risk of accidental overheating. Each GT hoverboard is UL 2272 certified.
GT Hover products have undergone extensive UL testing. Overcharge, short circuit, shock tests and crash tests are performed on each of the products. Each of the hoverboards includes a One Year Warranty; quality control is of the utmost importance to GT Hover, and consumers are free to call the toll free help line with any questions of concerns. Customer service is also available via email.
GT Hover has, since inception, developed a reputation for advancing the newest technology in hoverboard design. Each of the company's products can be controlled using the GT Hover app, available on both Android and iOS. Users can control the speed, power (Beginner, Normal, Advanced) and play music through the app, further enhancing the safety of the product.
GT Hover hoverboards are available at gthover.com or via select retailers such as Amazon.com.