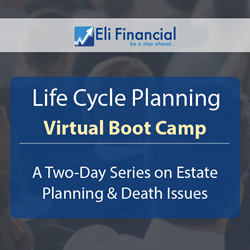 Estate planning is a complex process that involves issues far beyond the technical legal aspects of community property laws or tax treatment of assets.
Durham, NC (PRWEB) August 02, 2017
Eli Financial, a division of audio conference and corporate education leader ProEdTech, will host the live virtual boot camp "Life Cycle Planning Virtual Boot Camp: A Two-Day Series on Estate Planning & Death Issues" with taxation attorneys Arthur J. Werner, MS (Taxation), and Anthony J. Rocca on Thursday and Friday, August 10 and 11, 2017 at 1:00 pm ET. This session will provide tax practitioners with insights on estate planning and death issues so as to best prepare their clients for crucial life planning decisions.
Estate planning is a complex process that involves issues far beyond the technical legal aspects of community property laws or tax treatment of assets. Finding appropriate solutions to clients' estate issues should involve planning for a range of considerations while they are alive, including the drafting of wills, setting up trusts, and examining all sorts of relationships and goals. At death, a whole other set of considerations will arrive, including estate administration, tax payments and how to actually distribute property. Tax practitioners must help their clients consider the whole picture. From utilizing charitable donations and considering life insurance to preparing for "death taxes" and retirement plan distributions, tax practitioners must know how to best prepare their clients for a range of important life planning decisions.
This two-day, eight-hour boot camp with taxation attorneys Arthur J. Werner and Anthony J. Rocca provides the practitioner with information on how to incorporate estate planning, estate administration and tax compliance into one's practice. The Life Cycle Planning Virtual Boot Camp provides a detailed understanding of the tools and techniques applied in estate planning as well as those applied in estate administration and tax compliance. Arthur and Anthony will discuss the changing environment of estate planning, changes to the Internal Revenue Code and relevant developments in IRC, and how the estate administration process has evolved.
This event will help CPAs, EAs, attorneys, finance professionals, financial planners, bankers and insurance agents to understand:

How to begin the estate planning process with a client
Requirements for, and tax implications of, a charitable deduction
When to use a charitable split-interest trust and its requirements
How to compute generation-skipping transfer tax
When to use life insurance as an estate planning tool
Advantages of a life insurance trust and planning techniques with its use
Where the split-interest purchase of property is a valuable planning tool
When to use a GRIT, GRAT, GRUT or QPRT
Post-mortem opportunities
State and local tax compliance issues
Federal Estate tax issues
Income taxation of estate and trust issues
Specific Form 1041 compliance issues
Life insurance issues
Retirement plan distribution options
For more information and to register, visit: https://www.elifinancial.com/virtual-bootcamp/estate-life-cycle-planning
Get $20 off on our webinars. Use Code PRWEB20 on checkout.
About ProEdTech
ProEdTech is a leading source of knowledge and training for professionals in over 15 industries, serving individuals, businesses and their employees around the globe. It offers webinars, online conferences, seminars, boot camps, books, DVDs, white papers, industry reports and other learning tools from industry experts and insiders who provide a fresh perspective on key issues, trends and regulations in order to simplify governance, risk and compliance (GRC) for enterprises and industry professionals.
ProEdTech's AudioEducator webinars offer updates, regulatory knowledge and information on the latest news in various medical specialties, as well as coding and billing updates, and analysis of regulations that affect ambulatory surgical centers, home health, long term care and hospice facilities, hospitals and healthcare systems, health insurers and physician practices. Webinars are also offered through AudioSolutionz in the technology, human resources, construction and housing, ICT and telecom, manufacturing, consumer packaged goods and retail, safety and security, transportation, energy and environment, education, trade, and chemicals industries. ProEdTech's Eli Financial platform offers tax and banking professionals, focusing on providing high-quality online training products customized for U.S. lenders and tax practitioners that include the latest updates from the IRS, CFPB and other regulatory authorities. Lawyers across the United States depend on Eli CLE for top quality online continuing legal education (CLE) programs, which can be completed for MCLE credits.
ProEdTech regularly provides professionals the opportunity to get answers to their most complex questions directly from experts, without having to attend costly live conferences. To learn more, visit: http://proedtech.com/.