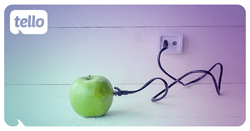 Atlanta, Georgia (PRWEB) August 01, 2017
Tello is excited to announce its new partnership with UCapture, an eco-friendly technology start-up. For new monthly plans initiated through UCapture, Tello will contribute the customer's first month's payment towards environmental projects that reduce greenhouse gas emissions, like reforestation.
Tello and UCapture expressed their enthusiasm for the new partnership. "Tello's main mission is to give control to the customer. Now by working with UCapture, we've empowered customers to help the environment as well."
Avery Michaelson, UCapture's Founder, has similar sentiments towards the new collaboration. "With their high power-consumption and usage, cell phones have a meaningful carbon footprint. I'm pleased our partnership with Tello enables many of our users to make their phones carbon neutral".
How to Get Started:
1. Join UCapture through Tello
2. Install UCapture's browser extension
3. Purchase a new monthly Tello plan
Then, UCapture will offset your carbon footprint for free!
About Tello
Tello, Sprint's new mobile virtual network operator, is super flexible, allowing you to fully customize your own plan without any binding contracts. Tello is transparent and simple with no activation, processing, or overage fees. 24/7 customer service and nationwide Sprint 4G LTE coverage guarantee you ultimate freedom and control over every aspect of your phone plan.
About UCapture
Founded in 2016, UCapture is an environmental tech company that rewards users by offsetting their carbon footprint, when they shop with over 2,500 online partners. UCapture's free Browser Extension and App dramatically reduce user's net impact on the environment, at no extra cost or effort. It's the easy, fun and free way to #LiveCarbonNeutral.