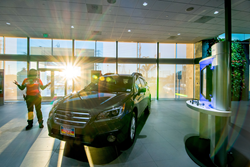 Think about the typical car showroom. They are sterile, stressful. Our living wall is an organic, green element that creates a more relaxed, welcoming environment, as a symbol of our commitment to sustainability.
Hawthorne, CA (PRWEB) August 02, 2017
When car buyers stop into Subaru Pacific, 14700 Hindry Avenue, Hawthorne, Calif., they receive a special "green" welcome at the LACarGUY dealership. The showroom features a living wall, a 14-foot high vertical garden with ten rows of planter boxes containing 120 plants, created with the LiveWall® Green Wall System.
"Living walls, also known as green walls, are structural systems that attach to existing exterior or interior walls to transform unadorned wall surfaces into vertical gardens," said Dave MacKenzie, president, LiveWall, LLC (Spring Lake, Mich.) "When installed indoors, they make interior spaces more appealing and inviting and improve indoor air quality."
"Think about the typical car showroom. They are sterile, stressful. Our living wall is an organic, green element that creates a more relaxed, welcoming environment," said James Hartzberg, general manager, Subaru Pacific. "As a symbol of our commitment to sustainability, it connects with the values of Subaru car buyers."
"The green wall brings to life what LAcarGUY and Subaru stand for," said Alisha Auringer, manager of the environment, LAcarGUY. "It visually expresses our commitment to caring for the environment."
Installed in January 2016 by Outside Matters Landscaping (El Segundo, Calif.), the Subaru Pacific green wall is 13 feet, 7 inches high and 8 feet wide. Totaling 110 square feet, it has ten rows, each with six LiveWall modular wall-planters lined with plant container inserts that have a mix of six different indoor plants. Florasource, Ltd. (San Clemente, Calif.), an independent horticulture supply company and Southern California LiveWall representative, advised LACarGUY on green wall design and plant selection and provided 120 pre-grown nursery plants in the containers.
Love of the outdoors and concern for the environment are hallmarks of the Subaru brand. For example, Subaru has built all its cars in zero-landfill manufacturing facilities since 2004. The LAcarGUY family of dealerships is passionate about the environment. Among its green initiatives, LAcarGUY was the first dealer in the country to promote adoption of electric vehicles by offering charging stations open to the public at its dealerships. Subaru Pacific earned distinction as an Eco-Friendly Certified Dealer — joining the ranks of Subaru dealers that meet stringent environmental standards. In addition to the green wall, Subaru Pacific has a 100-foot-long stormwater retention planter that captures all the runoff from its building, and daylighting solar tubes reduce electricity consumption in the service area.
"Whether they want to test drive a Subaru Partial Zero Emissions Vehicle that reduces smog-forming emissions to nearly zero, take a look at our green wall, or learn more about LACarGuy's environmental stewardship and conservation efforts, we invite people to visit Subaru Pacific," said Hartzberg.
LAcarGUY
The LAcarGUY family of dealerships has been a Los Angeles fixture since Mike Sullivan's dad "Sully" opened his first dealership, Volkswagen Santa Monica in 1974. Today, Mike Sullivan's LAcarGUY has grown to 11 award-winning dealerships throughout Los Angeles. As a leader in green vehicle sales, LAcarGUY is proud of its efforts to lead the industry to a greener automotive future, both internally and externally. Internal sustainable efforts include an LAcarGUY green team, installation of EV charging stations, building Audi's first Gold LEED-certified dealership, and monthly employee education led by the company's Manager of the Environment. LAcarGUY partners with a variety of local green organizations as well, including Heal The Bay, Grades of Green, Environmental Media Assoc, California parks to name a few. Learn more about LAcarGUY on our website. Find us on Facebook.
LiveWall®
Designed with a healthy regard for plants, LiveWall® is the patented living wall system that achieves simplicity and sustainability in harmony with nature. LiveWall is the result of four years of R&D by the professionals who created LiveRoof®, the superior green roof system. LiveWall green wall solutions are engineered with horticultural and structural features specific for indoor and outdoor environments. LiveWall supports plants as nature intended — roots growing down, stems and leaves growing up. With unsurpassed versatility to grow a diversity of plant types, LiveWall transforms ordinary walls into inspiring, thriving vertical landscapes that are simple to install and easy to maintain. Follow LiveWall on LinkedIn, like LiveWall on Facebook, and for more information call 877-554-4065.
Link to Project Photos: Dropbox_LiveWall_Subaru Pacific
Media Contacts:
LiveWall
Mike Haynes
LiveWall
616-935-1964
David Aquilina
Strategic Storyteller
612-716-5628
LAcarGUY
Brad Burlingham
Vice President, Marketing