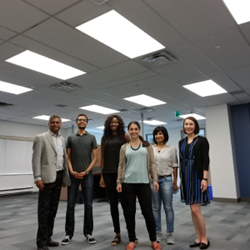 CINCINNATI, Ohio (PRWEB) August 03, 2017
The Gensuite Canada team was established in March of 2012 to service Canadian Gensuite customers and expand our global footprint. "Our Canada team has grown significantly in size. Now, we represent all pillars in the company," said Gensuite Canada Operations Leader, Laura Fiume.
"We have more room to accommodate the growing Canada team and number of subscribers," said Gensuite Business Analyst, Anna Fiume, another Gensuite Canada team member. This new office will provide the Canada team with more space for even greater growth, and includes updated amenities. Gensuite's Canada team expressed excitement as they share the news, "our new office has a lot of windows that make the workspace brighter. It is also close to the transit, which is important for us since we normally do not drive to work." said Anna.
The main priority of this office expansion was not only to give Gensuite Canada team members the resources needed to progress, but ultimately give them the ability to effectively serve their region. The Canada team will be able to provide the utmost support to subscribers in the area, furthering the extension of the Gensuite community. The Canada team says that their new office can better serve subscribers, stating, "The office is just a 30-minute drive to the international airport and is large enough to accommodate guests!"
This new office is just one way that Gensuite continues its mission to expand to new markets and to serve more subscribers globally. Gensuite is also opening a new office location in Paris, France.
Gensuite® enables companies to implement robust cross-functional compliance & management systems – locally, globally and across diverse operating profiles. Our comprehensive cloud software suite features intuitive, best-practice process functionality, flexible configurations and powerful extensions. For over two decades, we've helped companies manage safe & sustainable operations worldwide, with a focus on fast return on investment (ROI), service excellence and continuous innovation. Join over 600,000 users that trust Gensuite with their compliance and EHS&S software system needs!