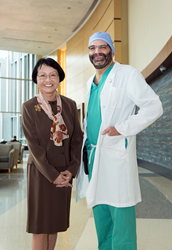 We are extremely grateful to Mrs. McClure for her exceptional generosity which will have a tremendous impact on our ability to provide the most advanced cardiovascular care for generations to come. John M. Murphy, MD, WCHN President and CEO
DANBURY, Connecticut (PRWEB) August 01, 2017
Danbury Hospital has received a generous leadership gift from Bridgewater resident Yoriko McClure to transform its cardiac operating room into a multi-functional cardiovascular surgical suite. Located in the Hospital's Peter and Carmen Lucia Buck Pavilion, the new clinical space is scheduled for completion in 2018 and will be named The Yoriko McClure Surgical Suite at Danbury Hospital.
The Yoriko McClure Surgical Suite will combine the functionality of a traditional operating room with the advanced imaging capabilities of a catheterization laboratory, creating a clinically optimal hybrid operating room. This state-of-the-art surgical environment will enable surgeons to perform minimally invasive cardiac and endovascular procedures with extreme precision in a single surgical encounter. The facility will also accommodate leading-edge equipment, technology and surgical staff needed to perform the most advanced cardiovascular procedures.
McClure, who underwent coronary bypass surgery at Danbury Hospital under the care of cardiothoracic surgeon Cary Passik, MD, said she was both impressed and grateful for the exceptional care she received during her stay.
"Dr. Passik and his team treated me so well. They saved my life," said McClure. "When I woke up, it seemed like Dr. Passik was always there. Saturday, Sunday, he always came. That to me was very impressive."
McClure said that she also envisions a healthy future for other area residents. "Many people from our community count on Danbury Hospital," she said. "Along with honoring Dr. Passik, I'm helping others, too."
"We are extremely grateful to Mrs. McClure for her exceptional generosity," said Western Connecticut Health Network President and CEO John M. Murphy, MD. "Her gift will have a tremendous impact on our ability to provide western Connecticut and neighboring New York with the most advanced cardiovascular care for generations to come."
Cardiovascular disease (CVD) is the leading global cause of death, accounting for more than 17.3 million deaths each year, a number that is expected to grow over 23.6 million by 2030. In Connecticut, CVD accounts for more than 9,300 deaths each year, about one-third – with coronary heart disease, cerebrovascular disease (stroke) and heart failure accounting for 48 percent, 15 percent, and 8 percent of all CVD deaths respectively. CVD remains the number one cause of death in Connecticut despite the overall decline in the prevalence of smoking and improved control of high blood pressure and high cholesterol.
About Western Connecticut Health Network
Western Connecticut Health Network is the region's premier, patient-centered health care organization serving residents of Western Connecticut and adjacent New York. The organization is anchored by three nationally recognized hospitals, Danbury Hospital, New Milford Hospital and Norwalk Hospital, and their affiliated organizations. The continuum of care offered includes numerous Western Connecticut Medical Group medical and sub-specialty practices, home health care services, a nationally renowned biomedical research institute, the Danbury Hospital & New Milford Hospital Foundation, the Norwalk Hospital Foundation and other affiliates. For more information, visit WCHN.org. Share your comments with us at Facebook.com/DanburyHospital; Facebook.com/NewMilfordHospital and/or Facebook.com/NorwalkHospital.
# # #