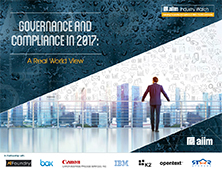 Silver Spring, MD (PRWEB) August 08, 2017
Research shows that when it comes information governance (IG) and data security, twenty-four percent of respondents reported that IG and data security are high on the agenda for senior management, with twenty-seven percent reporting they have plans in place to investigate and audit their information ecosystems according to new research by information management analysts, at AIIM. This research also found that when asked about data loss or challenges in finding information in the past twelve months, respondents reported data loss due to staff negligence or bad practices while others reported an inability to the records they required for litigation.
The study, "Governance and Compliance in 2017: A real World View," asked respondents to assess the maturity of their IG policies and practices. "Only three percent of our respondents cite their IG policies as being outstanding with seventeen percent of respondents rating the maturity level of their companies' IG policies as extremely poor", said Bob Larrivee, Chief Analyst for AIIM. Larrivee continues, "We also found that thirty-four percent of respondents say their companies do not offer them IG training at all, and fifteen percent say IG training is provided only at induction to the workforce. This is most likely the reason there is data los due to staff negligence and bad practices, and an opportunity for these companies to make some substantial corrections fairly quickly."
The emphasis on information governance and data security, and the risk of data loss have all become sharpened focal points for many businesses. Regulations are getting stricter, demanding greater need to adhere to regulatory, legal, and industry operating guidelines to secure and protect corporate and customer information. This requires businesses to implement more focused and stricter information governance (IG) policies, practices, and enforcement efforts.
Here are a few more points uncovered about IG and compliance from this report:

Nearly half of our respondents report having an IG committee of some sort.
Nearly one quarter report having little to nothing in the way of policies at all.
Fourteen percent indicate they have no defined retention policies and twenty-seven percent say most information never gets deleted.
A copy of the report can be found at this link.
About AIIM
AIIM has been an advocate and supporter of information professionals for 70 years. The association's mission is to improve organizational performance by empowering a community of leaders committed to information-driven innovation. AIIM is a global, non-profit organization that provides independent research, education, and certification programs to information professionals.
Contact:
Sean McGauley
AIIM
smcgauley(at)aiim(dot)org
+1 (774) 364-2088