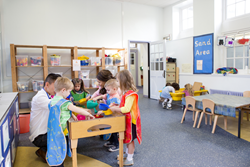 "Organizing the classroom around the use of learning centers is a great way to help children develop a passion for learning while accomplishing curriculum objectives and developing new skills," says Maria C. Taylor, President and CEO of CCEI
Duluth, Georgia (PRWEB) August 02, 2017
ChildCare Education Institute® (CCEI), an online child care training provider dedicated exclusively to the early care and education workforce, offers CCEI450A: Launching Learning Centers in Your Classroom as a no-cost trial course to new CCEI users during the month of August.
A learning center is a designated space in the classroom where children, in small groups or as individuals, engage in a specific activity. The use of learning centers allows teachers to focus on individual students' needs and interests while maintaining effective management over the classroom. The use of a variety of learning centers is now a widespread and commonly accepted practice in early childhood classrooms. The developmentally appropriate classroom should be filled with equipment and materials that encourage children to explore, ask questions, solve problems, and gain knowledge by interacting with the world around them.
This course examines the process of establishing and enhancing learning centers in an early childhood education setting. Upon successful completion of this course, students should be able to list common learning centers found in an early childhood classroom and identify the requirements for evaluating and adjusting each classroom center to ensure the appropriateness for young children.
"Organizing the classroom around the use of learning centers is a great way to help children develop a passion for learning while accomplishing curriculum objectives and developing new skills," says Maria C. Taylor, President and CEO of CCEI. "While it is important to put time into planning and organizing a learning center, it is more important to remember to observe children closely in order to determine their interests and skill levels. Centers should provide appropriate challenges for all children. We're pleased to offer CCEI450A as a no-cost trial course for the month of August just in time for back-to-school!"
CCEI450A: Launching Learning Centers in Your Classroom is a one-hour, beginner-level course and grants 0.1 IACET CEU upon successful completion. Current CCEI users with active, unlimited annual subscriptions can register for professional development courses at no additional cost when logged in to their CCEI account. Users without subscriptions can purchase child care training courses as block hours through CCEI online enrollment.
For more information, visit http://www.cceionline.edu or call 1.800.499.9907, prompt 3, Monday - Friday, 8 a.m. - 5 p.m. EST
ChildCare Education Institute, LLC
ChildCare Education Institute® provides high-quality, distance education certificates and child care training programs in an array of child care settings, including preschool centers, family child care, prekindergarten classrooms, nanny care, online daycare training and more. Over 100 English and Spanish child care training courses are available online to meet licensing, recognition program, and Head Start Requirements. CCEI also has online certification programs that provide the coursework requirement for national credentials including the CDA, Director and Early Childhood Credentials. CCEI is nationally accredited by the Distance Education Accrediting Commission (DEAC), is accredited as an Authorized Provider by the International Association for Continuing Education and Training (IACET), and is authorized under the Nonpublic Postsecondary Educational Institutions Act of 1990, license number 837.