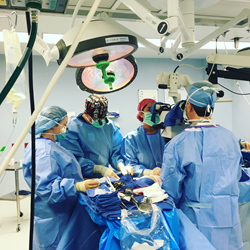 "We are dedicated to rebuilding lives after breast cancer," says Dr. Gary Arishita. "We are truly honored to provide today's advanced breast reconstruction techniques on such a large scale."
San Antonio, TX (PRWEB) August 03, 2017
Leading breast reconstruction center--PRMA Plastic Surgery--announces they have successfully completed their 7,000th microsurgical free flap breast reconstruction surgery.
This makes PRMA one of very few centers worldwide performing such a high volume of complex breast reconstruction procedures.
Microsurgical breast reconstruction using tissue flaps represents the state of the art in reconstruction breast surgery after mastectomy. The tissue removed by a mastectomy is replaced with the patient's own living tissue from another area of the body (lower abdomen, thigh, buttock, etc.) to reconstruct a natural, warm, soft breast. With procedures like the DIEP or SIEA flap, sensory nerve reconstruction can also be performed to restore breast feeling after mastectomy.
"We are dedicated to rebuilding lives after breast cancer," says Dr. Gary Arishita. "We are truly honored to provide today's advanced breast reconstruction techniques on such a large scale."
Founded in 1994, PRMA has grown to include a team of seven microsurgeons with two locations and has performed over 8,500 total breast reconstruction procedures for women across the globe.
"We are proud to reach this milestone and thankful to use our skills to impact lives in a positive way every day," shares Dr. Peter Ledoux.
About PRMA
PRMA Plastic Surgery in San Antonio, Texas, specializes in state-of-the-art breast reconstruction. Procedures offered include the DIEP flap, SIEA flap, GAP flap, TUG flap, fat grafting, vascularized lymph node transfer and nipple-sparing mastectomy. PRMA is In-Network for most US insurance plans and routinely welcomes patients from across and outside the US.
Our Mission
We are dedicated to promoting an environment of compassion, concern and support for every patient regardless of social or economic status and regardless of type of insurance. We will strive to not only support the patient and their family but also to support each other as the ever-changing field of medicine becomes more complex. Honesty and integrity, compassion and caring, make up the foundation of PRMA and at no point shall these principles be compromised