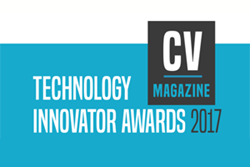 Our technology assists organisations in aligning their contact centre directly with the digital function to meet the growing expectations of customers for 24/7 access to accurate information and support.
London, UK (PRWEB) August 02, 2017
Creative Virtual, a world leader in customer and employee engagement, knowledge management and self-service solutions, is again the recipient of two awards in Corporate Vision's annual Technology Innovator Awards. This year the company has been awarded 'Best Global Customer Engagement Software Provider 2017' and 'Most Innovative Customer Support Tool: V-Person Live Chat'.
Now celebrating its third year, the Technology Innovator Awards aim to raise the profile of those who's innovative thinking and commitment to technology make the industry what it is today. The 2017 awards program showcases the talented individuals, teams and firms that form the backbone of this dynamic industry.
"Technology is vital to everyday life, therefore it has been a real pleasure to be able to showcase those dedicated to making innovations happen," says Laura Hunter, Awards Coordinator. "I would like to congratulate my winners and wish them the best of luck going forward."
Officially launched to the market last year, V-Person Live Chat empowers organizations to deliver an integrated customer support experience by combining self-service virtual agents and human-assisted live chat. The solution is defining industry best practice through the tight integration of a single knowledgebase for both virtual and real agents and a unique feedback loop that allows live chat agents to help keep content accurate across self-service channels and live chat just by doing their normal jobs.
V-Person Live Chat is part of Creative Virtual's suite of Smart Help solutions that provide organizations the technology to enable seamless, fully integrated, end-to-end customer engagement. The company's multi-lingual chatbots and virtual agents are currently being used around the world by enterprises to improve their customer support experience, reduce costs, increase sales and build brand loyalty.
"It is an honor to be acknowledged for a third straight year by the Technology Innovator Awards for our cutting-edge customer engagement solutions," says Chris Ezekiel, Founder & CEO of Creative Virtual. "At Creative Virtual we closely monitor developing trends and the evolution of customer engagement in order to provide enterprises with innovative support solutions. Our technology assists organizations in aligning their contact center directly with the digital function to meet the growing expectations of customers for 24/7 access to accurate information and support."
Visit the Creative Virtual website to learn more about their award-winning customer engagement and support solutions.
ABOUT CREATIVE VIRTUAL
Creative Virtual, winner of the Queen's Awards for Enterprise: Innovation 2017, is a world leader in self-service solutions that enable anywhere, anytime customer engagement between brands and their customers. Leading global organisations including Lloyds Banking Group, Time Warner Cable, HSBC, Verizon, Chase, InterContinental Hotels Group, Autodesk and Tesco rely on our award-winning V-Person™ technology to improve their customer support experience, increase sales, reduce costs and build brand loyalty.
Backed by an experienced, expert team as well as an extensive partner network, our innovative virtual agent, knowledge management and business intelligence platform empowers organizations to provide customers with consistent, accurate, personalized and seamless omnichannel engagement across web, mobile, social, SMS, contact center, service desk, live chat and IVR channels. Delivering significant contact deflection and reductions in average call handling times, as well as increased first contact resolution, together with powerful customer analytics and outcome tracking, the V-Person Smart Help platform is the most compelling self-service product in the world today.
Creative Virtual is headquartered in the United Kingdom with operations in the United States, the Netherlands, Australia, New Zealand, India, Singapore and Hong Kong. For more information about Creative Virtual and V-Person technology, please visit our website at http://www.creativevirtual.com.