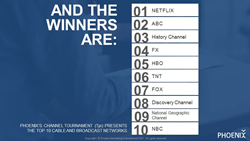 Rhinebeck, NY (PRWEB) August 04, 2017
Netflix in the top spot for all ages except 55-64, ABC and History Channel rank 2nd and 3rd
In August of 2015, the investment research and management firm Bernstein sent a note to clients that said media companies like Disney and Time Warner were to be downgraded because they were "structurally impaired." The company believed traditional television networks would be in a period of prolonged decline due to viewers preferring non-ad-supported platforms, such as Netflix and Amazon Prime Video, over ad-supported networks. Nearly two years later we see that while Netflix and Amazon Prime Video are increasingly important, broadcast & cable networks are still alive and kicking, and in high demand by consumers.
Phoenix Marketing International, a premier global marketing services firm, ran a study using our Tpi (Tournament Performance Indicator) platform, in which it asked consumers to compare 64 leading broadcast and cable networks (including Netflix and Amazon Prime Video) against each other in head to head match ups. The results of these match ups were put through our Tpi PowerScore process resulting in a ranking for all the networks.
AND THE WINNERS ARE:
1.NETFLIX
2.ABC
3.HISTORY CHANNEL
4.FX
5.HBO
6.TNT
7.FOX
8.DISCOVERY CHANNEL
9.NATIONAL GEOGRAPHIC CHANNEL
10.NBC
"While Netflix has certainly taken the media world and culture by storm—and ranked number one in Phoenix Marketing International's 2017 Channel Tournament—demand for the traditional is still strong, as three of the four major broadcast networks are in the top 10," said Edye Twer, President of Phoenix's Converged Tech & Media. Amazon Prime Video is not quite in the top ten, but is still ranked well at thirteen. Interestingly, Netflix holds its number one spot for all age groups under 55.
Political preferences clearly surfaced in the results as well. When looking at cable news networks, we see a stark difference between Republicans and Democrats. FOXNews is the top Republican news network, coming in at number 4 overall. For the Democrats, it's CNN at number 14, with MSNBC close behind at number 16, and FOXNews coming in at a distant 44. The trend continues when looking at the top news networks among Trump versus Clinton voters. FOXNews is number 5 among Trump voters, while CNN is tops among Clinton voters at number 12.
To learn more about this study and how other networks scored, or to provide input for our Third Quarter study update, please visit our website or contact Phoenix Marketing International via email at CTM(at)phoenixmi(dot)com or phone at 215-395-6655.