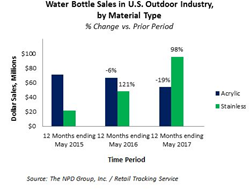 Being healthy, environmentally conscious, and promoting sustainability have always been among the values of the core outdoor consumer; but today they have become societal standards across all demographics.
Port Washington, NY (PRWEB) August 02, 2017
Water may seem like a small luxury, but consumers are showing that they are willing to pay the price for it. According to global information company The NPD Group, Inc., hydration represents a $345.7 million category within the core U.S. outdoor industry*, with sales up 16 percent in the 12 months ending May 2017. Dollar sales have grown by $94 million in the past two years, or 37 percent.
Nearly all hydration categories have experienced an increase in sales, including bottles (+23 percent), hands-free fanny packs (+11 percent), large containers/jugs (+7 percent), and reservoirs (+2 percent). Coinciding with the start to music festival season, sales of reservoirs and bladders grew by 5 percent in April and May. The biggest brands in the overall hydration market based on dollar sales are CamelBak, Hydro Flask, and YETI.
Bottles represent the bulk of hydration sales at $175.5 million, and average selling price for these products has increased by 28 percent during the most recent 12-month period. Stainless steel bottles have now surpassed acrylic, nearly doubling its sales to $95.6 million in one year and claiming 54 percent share of the category. Acrylic, which held 63 percent market share two years ago, is now at 31 percent with $54.1 million in sales.
"There's no life without water, and there's no day when consumers go somewhere without it. Over the years, we've witnessed a movement from plastic water bottles, to portable beverageware, to eco-friendly insulation that promises to keep our water clean and cold for days," said Matt Powell, vice president and sports industry analyst, The NPD Group. "Being healthy, environmentally conscious, and promoting sustainability have always been among the values of the core outdoor consumer; but today they have become societal standards across all demographics. What a product stands for is now often more important than the item itself. This is an inclination that retailers and manufacturers should take into consideration when marketing to consumers."
Source: The NPD Group, Inc. / Retail Tracking Service, 12 months ending May 2017
*Channels include Mass/Other/Athletic Specialty & Sporting Goods, Outdoor Specialty, and Sport Specialty E-commerce
About The NPD Group, Inc.
NPD is the leading global provider of market information and business solutions covering brick-and-mortar, e-commerce, and emerging channels in more than 20 industries. We combine our unique data assets with analytic solutions to help our clients measure performance, predict trends, and improve results, advising them to help drive successful growth. Practice areas include apparel, appliances, automotive, beauty, books, consumer electronics, diamonds, e-commerce, entertainment, fashion accessories, food consumption, foodservice, footwear, home, juvenile products, mobile, office supplies, retail, sports, technology, toys, travel retail, games, and watches / jewelry. For more information, visit npd.com and npdgroupblog.com. Follow us on Twitter: @npd_sports