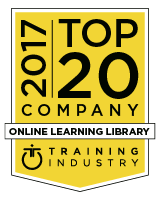 American Fork, Utah (PRWEB) August 01, 2017
eLearning Brothers, the planet's largest content library of Templates and Customizable Courseware today announced that it is being recognized as a Top 20 Learning Library by Training Industry. The award was presented to eLearning Brothers for both the eLearning Templates Library as well as the newest offering - Customizable Courseware.
Selection to this year's Top 20 Learning Library List was based on the following criteria:

Client Engagement
Alignment with business needs and performance objectives
Feature set
Analytics and Metrics
Device and platform support
Subject matter
Level of Innovation
Thought leadership and influence within the training industry
Breadth of programs and range of audiences served
Company size and growth potential
Strength of clients
Geographic reach
"eLearning Brothers is the first company to ever launch a fully customizable library of courseware for online and classroom learning. Our Customizable Courseware has professional soft skills courses that are built in PowerPoint, Articulate Storyline, Adobe Captivate, and Lectora." said Andrew Scivally, Founder & CEO.
The eLearning market has had a gaping hole in it that needed to be filled. Now for the first time companies have an off the shelf courseware solution that is 100% customizable. Companies can make it their own.
"This award reflects eLearning Brothers commitment to our customers to be at the forefront of innovation in the eLearning world. eLearning Brothers feels honored to be listed among some of the leading companies in Ed Tech like Lynda.com, Degreed, SkillSoft, Harvard Business Publishing, and NIIT." said Curtis Morley, President & Chief Growth Officer.
With the eLearning Brothers Customizable Courseware, users get the source files for all classroom and online courses. They can launch the course as is or they can use the source files to customize the courses to meet their business and branding needs in a fraction of the time and expense.
For further details on today's announcement visit the blog at http://www.eLearningBrothers.com/press or Training Industry Top 20 Learning Libraries
About eLearning Brothers
eLearning Brothers is on a mission to create "eLearning Rockstars" by providing the planet's largest and most interactive library of assets for rapid eLearning content development. eLearning Brothers is also creating award-winning custom eLearning and has a first to market offering - customizable courseware.
http://www.eLearningBrothers.com
Contact
eLearning Brothers
Curtis Morley, 801-796-2767
press(at)elearningbrothers.com