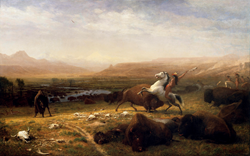 With his history paintings, Bierstadt endeavored to convey moral messages.
Cody, Wyoming (PRWEB) August 02, 2017
Albert Bierstadt (1830 – 1902) is best known as America's premier western landscape artist. But he was also a renowned history painter, a rarely discussed element of his legacy. In 2018, the Buffalo Bill Center of the West partners with Gilcrease Museum of Tulsa, Oklahoma, to produce a major exhibition focusing on Bierstadt's depictions of Plains Indians and bison, whom he approached as key subjects for his art.
"Albert Bierstadt: Witness to a Changing West" features some 75 objects from more than 30 private and institutional lenders. Both the Center and Gilcrease are contributing masterworks from their collections. In addition to signature paintings by Bierstadt, also included are works by artists of Bierstadt's time—and before—depicting both American Indians and bison during a period of dramatic change in the West.
On view at the Center, June 8 – September 30, 2018, and at Gilcrease, November 1, 2018 – February 10, 2019, the exhibition is accompanied by a peer-reviewed catalogue published by the University of Oklahoma Press. Both venues plan symposia on the subject.
The Center of the West's Director Emeritus, Dr. Peter H. Hassrick, a leading scholar in his field, serves as exhibition curator. Co-curators are Karen McWhorter, Scarlett Curator of Western American Art at the Center, and Laura F. Fry, Senior Curator and Curator of Art at Gilcrease.
With his history paintings, Bierstadt endeavored to convey moral messages, and his works demonstrate the ways in which he engaged the conservation and aesthetic issues of his day. He attempted to honor the dignity of Native peoples in the West like the Sioux and Shoshone, and to inspire empathy for the remnant herds of buffalo in Yellowstone National Park as the species neared extinction. Today, amid ongoing concerns around Native American sovereignty and environmental conservation, this timely exhibition addresses how these subjects have historically been treated by artists, the American people, and government.
For more information about the upcoming exhibition, contact Karen McWhorter at the Center of the West and or Laura Fry at Gilcrease.
Since 1917, the award-winning Buffalo Bill Center of the West in Cody, Wyoming, has devoted itself to sharing the story of the authentic American West. The Center, an affiliate of the Smithsonian Institution, is currently operating its summer season, open daily 8 a.m. – 6 p.m. For additional information, visit centerofthewest.org or the Center's pages on Facebook and Google+. #100YearsMore
The Thomas Gilcrease Institute of American History and Art, commonly known as Gilcrease Museum, located in Tulsa, Oklahoma, is one of the country's best facilities for the preservation and study of American art and history. The museum houses the world's most comprehensive collection of art of the American West, including an unparalleled collection of Native American art and material. For additional information, visit Gilcrease.org.