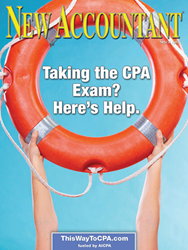 Chicago, Illinois (PRWEB) August 03, 2017
New Accountant Magazine, a trusted professional journal for college accounting students since 1985, has released its latest issue, available both in print and online.
This Back to School issue provides valuable information for students and professionals alike who are entering the accounting world.
The featured cover story in this issue, "Taking the CPA Exam? Here's Help." provides readers with the steps one should take to prepare for the CPA Exam. From knowing what is on the exam, to understanding state licensure requirements and practicing. They also provide ideas on who to turn to for support during this process, as well as a list of CPA Exam resources.
The issue starts off with a Professional Outlook article titled, "Marketing for Accountants? What's That?" by CPA Thomas Garvey. Client development is a crucial part of the job for accountants; find out how to best market yourself in the professional world after graduation in this humorous and insightful article.
Internships play a major role in the success of a career as an accountant. Discover several strategies one can use as an accounting intern in Professor Kiren Dosanjh Zucker article, "The Extended Interview: Strategies for Effective Communications As An Accounting Intern".
Alicia Washington also touches on the importance of internships in her article, "Getting Experience Before Graduation. She says, "Through working for different types of companies in varying accounting departments, you learn what type of management style you prefer. You get exposure to company culture and different types of leadership." It is important for students to see where they want to go professionally.
As the Great Recession of the 21st century has ended, authors Ronald Stunda and Dylan Heyer take a look at the pension crisis facing key American cities in their article, "Unfunded Pension Liabilities… Are We On the Precipice?" They touch on the reforms being sought out to correct them.
Finding a balance between workload, good grades and maintaining a constant GPA are major pieces to a student feeling successful. In W.R Singleton and Tomoko Nakamura article, "Staying in Balance: The Tradeoff Among Grades, Class Load & Work", they analyze a sample of accounting students in their academic lifestyle and reveal their findings.
Find out your personality style and how to work well with others in Steven Hirsh's article, "How To Work Successfully With Others". Also discover important choices accounting majors should consider while developing their academic plan in the article, "Why It's Important to Take the CPA Exam," by Doug Barney and Daniel Tschopp.
Additional features in this issue include University Profiles by Post University and Cal State Fullerton – Mihaylo School of Business, a section on the New Accountant Editorial Board and the Professional Directory.
Featured advertisers in this issue include AICPA, Bay Path University, Boise State University, California State University – Fullerton, UC Riverside - The A. Gary Anderson Graduate School of Management, IMA (Institute of Management Accountants), Mazars USA LLP, Michigan State University, Post University, Rutgers Business School, Surgent CPA Review, ThisWayToCPA.com, University of Cincinnati – Carl H, Lindner College of Business, University of Michigan – Flint Bryant School of Business and Economics, University of North Carolina – Greensboro, University of North Dakota, USC Leventhal School of Accounting, University of South Dakota and University of West Florida.