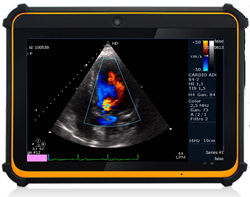 SonicXpress can help save Lives
Indianapolis,IN (PRWEB) August 03, 2017
Point of Care Ultrasound, L.P. a point-of-care ultrasound education company, is excited to announce the launch of SonicXpress, a revolutionary new mobile platform which transmits real-time ultrasound examinations at the point-of-care or point-of-injury to qualified physicians, even from the most rural or remote locations. Using patented cellular bonding technology, SonicXpress facilitates reliable, secure transmission of pre-hospital ultrasounds with visual and audio communication between the ultrasound performer and the physician thus providing early access clinical information, potentially changing a patient's treatment course.
Point of Care Ultrasound believes SonicXpress will improve telemedicine and triaging capabilities in remote or rural areas where the nearest hospital may be far away and cellular or WiFi service is limited. Through unique, secure VPN and cellular bonding technology, real-time transmission can reliably be achieved and communicated to an authorized physician's laptop, tablet or smartphone device.
"Ultrasound is often the the first choice modality to diagnose a patient due to its real-time, non-ionizing and cost efficient nature," said Dr. Michael Welsh, President and Founder of Point of Care Ultrasound. "I believe SonicXpress can be used in multiple situations which could improve patient outcomes, whether it be a mass trauma event and triaging the most critical patients is of the utmost importance or to determine and treat the cause of Pulseless Electrical Activity (PEA) in the field to give more condition-specific treatments for the various causes of PEA, such as hypovolemia or hypo-contractility."
About Point of Care Ultrasound
Founded in 2012 by Dr. Michael Welsh RDMS, RVT, RDCS, Point of Care Ultrasound, L.P. is a veteran owned organization which provides point-of-care ultrasound didactic and hands on training and CEURF accreditation to physicians and medics worldwide.
For more information, visit http://www.sonicxpressultrasound.com, http://www.pocmedicultrasound.com, http://www.pocultrasound.com
Media Contact
Point of Care Ultrasound, L.P.
Michelle Alexander, Clinical Marketing Director
Email: Michelle.Alexander(at)sonicxpressultrasound(dot)com
Tel: (+1) 833-POC-SCAN