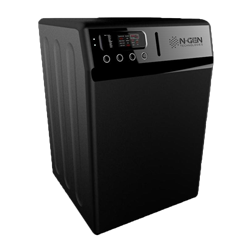 After years of being able to purchase everything from toys to automobiles online with your credit card, the day has finally come where you can purchase equity in a company with an idea you love
San Diego, California (PRWEB) August 01, 2017
The creators of the world's first home power appliance have set a new landmark with the launch of the first ever tech public offering to accept credit card payments for equity investments. The Online Public Offering(OPO) is being handled by LA-based equity crowdfunding platform, StartEngine. https://www.startengine.com/startup/n-gen-technologies
While still a relatively new concept, OPOs are quickly gaining in popularity as an accessible way for investors to find brilliant new ideas and invest early. Permitting credit cards to be used for the purchase of equity is a first in tech OPO history and will enable individuals to easily invest without a cumbersome funding process.
The move will enable N-Gen Technologies(N-Gen) to garner investment through credit cards as well as bank transfer, to assist in the further development and production the N-Gen1. In the past, innovative companies would turn to banks or VCs to bring their ideas to life, often resulting in difficult ownership structures and investors focused on early returns instead of long term innovation. N-Gen Technologies is using the StartEngine Platform to give individuals the option to own early equity giving investors the opportunity to participate in N-Gen's growth and disruptive technologies in a way never before available.
"After years of being able to purchase everything from toys to automobiles online with your credit card, the day has finally come where you can purchase equity in a company with an idea you love," commented CEO and founder of N-Gen Chris Anthony.
"This is the first time a Tech Public Offering has been able to accept credit cards for the purchase of equity and it will greatly simplify a complex process that scares off many wanting to support new companies with compelling ideas. Thanks to StartEngine, it is now as simple to purchase equity in a great company as it is to purchase most other goods online. This makes equity purchases less intimidating for new investors wanting to support those doing pioneering work, such as our team at N-Gen Technologies," Chris added.
N-Gen will use its equity funding to finance production of the N-Gen1, a home power appliance expected to produce 1.5KW of continuous electricity cheaper and with far less pollution than the traditional power supply purchased from a utility provider. It's anticipated to be so efficient that the unit will typically pay itself off within three years of use, with additional savings made over its 25-year design life going straight into the owner's pocket.
To find out more about N-Gen Technologies Inc, the N-Gen 1 and its OPO, visit: http://www.N-Gen.com
About N-Gen Technologies Inc.
N-Gen is bringing power to the people through innovative generation technologies. Basking in the Southern California sun and collaborating with other innovators in San Diego, California has allowed founders Alan Holsapple and Chris Anthony to create truly world shaping technologies over the last two decades. Now N-Gen is poised to lead the world to distributed power with less cost and less environmental impact than ever before
For more information on OPOs, visit: http://www.StartEngine.com
About StartEngine
StartEngine is one of the country's leading equity crowdfunding platforms. The platform connects investors, both accredited and non-accredited, with tomorrow's most progressive companies. StartEngine aims to revolutionize the startup business model by helping individuals invest in private companies on a public platform, thereby helping entrepreneurs achieve their dreams. Based in Los Angeles, the company was created in 2013 by Howard Marks, co-founder of Activision and Ron Miller, award-winning serial entrepreneur.