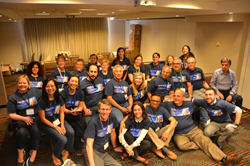 Orange, Calif. (PRWEB) August 02, 2017
In late May, Allied Anesthesia physician Dr. Armen Chalian was part of an outreach team of 32 doctors, nurses and social workers that delivered care to 750 patients and performed 58 surgeries in Yerevan, Armenia. The two-week mission resulted in six medical "firsts" in that country and was conducted under the auspices of Arpan Global Charities, a philanthropic medical organization with outreaches in more than 14 countries. The multidisciplinary team comprised professionals from St. Joseph Hospital of Orange, Calif., and Children's Hospital of Orange County (CHOC).
Medical "Firsts"
During the mission, the team performed and recorded six medical procedures never done in Armenia. Dr. Chalian said, "We recorded everything as part of a program to ensure that Armenian physicians could continue these techniques in the future."
Video-assisted thoracoscopic surgery (VATS) for decortication and lung resection was among the first-time procedures.
The team also introduced techniques for postoperative pain management, such as ultrasound-guided blocks and the ON-Q pain relief system, a pump catheter pain relief method that reduces the need for opioid drugs and that can improve patient outcomes. Other firsts included laparoscopic gynecologic, urinary incontinence and several pediatric laparoscopic surgeries.
Dr. Chalian said that, aside from the obvious goals of treating patients and delivering equipment in Armenia, the medical team sought to establish long-term relationships with health care professionals in the country. "Part of our goal was to create programs, such as sister hospital networks, to make sure the medical advances introduced could be maintained by appropriately trained clinicians in Armenia."
The Team
From St. Joseph Hospital, the team included Drs. Brian Palafox, Paul Beck, Bedros Kojian and Armen Chalian, and Medical Social Worker Marjorie MacDonald. The CHOC team included Drs. Sudeep Kukreja and Mary Zupanc, Registered Nurse Specialists Kristine Golden and Cindy Baker-Fox, and residents Drs. Hillary Zieve, Sneha Kemkar, Kindra Lindrith, Jacob Khoubian and Stephanie Lee.
The volunteers brought thousands of dollars in medical equipment and supplies from the United States, including sutures, medications, laparoscopic surgical supplies and pulse oximeters with transcutaneous hemoglobin capabilities. The team was interviewed on local television and was featured in local and online media services.
Dr. Chalian said, "We made several inroads toward shaping the future of Armenia's health care system—things like establishing care team protocols and checklists, the importance of 'skin-to-skin' newborn bonding and lactation programs. We also emphasized important social health issues like advocating protective care services for women and children."
About Allied Anesthesia: With more than 100 highly qualified physician anesthesiologists on staff, Allied Anesthesia provides adult and pediatric anesthesia services to St. Joseph Hospital of Orange, CHOC Children's Hospital, St. Jude Medical Center in Fullerton, San Antonio Community Hospital in Upland, St. Mary Medical Center in Apple Valley and many other Southern California health care facilities. In 2014, Allied Anesthesia joined with Fullerton Anesthesia Associates and Upland Anesthesia Medical Group to consolidate best practices in more than six hospitals and more than a dozen ambulatory surgery centers. The expanded medical practice is dedicated to offering the highest comprehensive quality of care and the most cost-effective procedures in all facilities they serve. All Allied physician anesthesiologists are board certified in anesthesiology, and they staff and manage the most efficient operating rooms in Southern California. Allied is a member of the California Society of Anesthesiologists, the American Society of Anesthesiologists and the Anesthesia Quality Institute.
For more information, visit: http://www.alliedanesthesia.com.