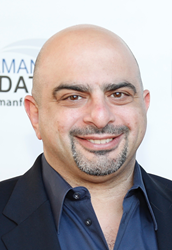 I am humbled everyday by the kindness and generosity of our supporters.
Dallas, Texas (PRWEB) August 02, 2017
TangoTab, a Dallas-based smartphone app that allows users to check in at restaurants while simultaneously feeding people-in-need, has just achieved the 2-million people fed milestone and is now poised to launch nationally.
Hunger in the U.S. is a hidden problem. However, every night, 1 in 5 U.S. children goes to bed hungry. Food insecurity in our country is a growing concern and more than 48 million people are struggling to make ends meet or to find food on a daily basis.
In 2012, while visiting a food pantry in the DFW area and recognizing the gravity of the issue, tech-entrepreneur, Andre Angel, vowed to solve the problem. Leveraging his technology expertise from the numerous successful tech startups that he had previously built, a new and a creative business model, TangoTab was born.
Noting that the average American consumes five meals in restaurants every week (which is more than 1.1 billion meals, weekly, across the nation), Angel believed that he has the math to solve U.S. hunger. With TangoTab's "When You Eat, They Eat" Promise, every time a TangoTab consumer uses the app to check in at a restaurant, TangoTab donates the cost of a meal to a local food charity, to feed a person-in-need locally.
TangoTab provides those who dine out a chance to make a difference in their community by connecting them with great local restaurants that have partnered with the app. Sometimes, the restaurants and creating special offers and discounts for TangoTab consumers. When a consumer uses TangoTab at a participating restaurant,
TangoTab is notified via its mobile app and then makes a donation to a local food charity. There is no added cost to the consumer and it's proving to be hugely beneficial in increasing traffic for the partnering local restaurants.
"We have been blessed to grow an idea that puts the ability to fight hunger and to help local restaurants in the palm of our consumers' hand, via smart phone, in markets across the country," said Angel, founder and CEO of TangoTab. "We are overwhelmed by the generosity of our family of users who choose to help the hungry while dining out and we are pleased that so many people are taking a simple action to lead the charge and share the message with others."
Currently, major brands such as Starbucks, Jersey Mike's, Chipotle, Panda Express and Chick-fil-A grace the ever-growing list of restaurants featured on TangoTab. The app has recently expanded around the country and is hoping to be a huge partner in the solution for hunger across the U.S.
Just by joining the mission you will feed 2 people in need. You can join today at Download.TangoTab.com.