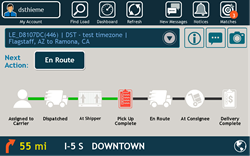 "LoadExpress is the answer to our prayers. I have already signed up, and I advise everybody to sign up too." --Roger Dunlap RD's Tractor Trailer Express Denton, TX.
San Diego, CA (PRWEB) August 02, 2017
LoadExpress, Inc. has released its carrier mobile app for both Android and iOS smart devices. LoadExpress is a web-based freight auction and matching marketplace that enables shippers and carriers to deal directly without brokers. It delivers total transparency to the pricing and process of shipping freight. It represents the future of truck freight transportation.
With LoadExpress, carriers can make more money by setting their own rates, getting their own customers and competing in the market without depending on brokers. They can reduce empty miles by using LoadExpress' proactive load matching feature. This feature is like an automated load board, but superior to it by sending loads that match carriers' preferences to them directly, vs. carriers having to search for them. Carriers will also reduce overhead cost through automation.
LoadExpress is absolutely free to join and use for carriers, as shippers pay one flat transaction fee for each completed shipment on LoadExpress. LoadExpress can save shippers 50% on broker margins. It is easy to sign up, and users will be up in minutes.
LoadExpress enables FMCSA-qualified carriers to bid directly for shipments posted by shippers. Once a bid is accepted, the wining carrier and shipper will deal directly with each other throughout each job and complete the transaction on the platform. Both parties can track the shipment and transaction, communicate and get alerts in real-time; all documents, notes, signatures, images are generated, verified and stored on the platform; payments are settled; and each party will rate the other after each transaction. Transaction data and analytics will also be available to help users optimize their freight operations.
Reliable and fast payment is the lifeblood of carriers. LoadExpress pays carriers their full invoice amount on any completed delivery with proof of delivery within 24 hours with ExpressPay (money code), and 2-3 days via ACH. No processing fees, holdbacks, or hassles; just hard-earned cash. Fuel advance of 50% of the invoice is available for qualified carriers. Carriers do not need factors by using LoadExpress.
LoadExpress is also the only digital load matching system that uses truck maps and databases to provide the most accurate load tracking capability to shippers. It also delivers critical roadside information truckers need, including: speed limit, bridge weight/height, curve ahead warnings and points of interest such as diesel stations and truck stops. Once a carrier is delivering a load on LoadExpress, truck navigation/routing with turn-by-turn will be automatically turned on. These features are similar to those on leading truck navigation devices such as those from Rand McNally, which retail between $300-600. It is a totally free download on LoadExpress, and only available on the LoadExpress mobile app. All other products in the market use free maps and their features, which are probably good enough for truckers 70% of the time. The other 30% may cost them high fines, higher cost and delays. Experienced truckers know the difference.
"LoadExpress is the answer to our prayers. We are constantly fighting for every penny we earned and going back and forth with people who don't care about what we are doing...fighting for detention pay, for a good rate. I have already signed up, and I advise everybody to sign up too," said Roger Dunlap, owner of RD's Tractor Trailer Express in Denton, TX.
Download instructions: Both apps can be downloaded from LoadExpress: http://www.loadexpress.com or
Android: Google Play Store https://play.google.com/store/apps/details?id=com.loadexpress.
iOS: Apple App Store https://itunes.apple.com/us/app/loadexpress/id1204939480?ls=1&mt=8
About LoadExpress
LoadExpress' mission is to bring an automated, direct business model to the trucking industry through proven technology. Its approach represents the future of trucking, and solves a long-standing problem acknowledged by shippers and carriers alike that the current broker-based system of high cost and inefficiency is not sustainable. LoadExpress' approach will unlock $billions of cost savings for shippers and incremental revenues for carriers. It will also increase customer satisfaction and productivity across the $700+ billion truck freight industry. Based in San Diego, LoadExpress was founded in 2015 by veterans of the logistics, trucking, financial and software industries who have a track record of building and selling successful new ventures.
Contact:
Ken Liu, V.P. Business Development
email: ken(at)loadexpress(dot)com
Tel: 858-722-0912