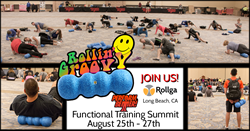 It is humbling to be invited on this tour ~ Tim Schmidt
Long Beach, CA (PRWEB) August 01, 2017
Rollga scheduled to show case the Rollga Foam Roller during a Lunch Time Learning Session in Long Beach, CA at Perform Better's Functional Training Summit. This Summit marks the fourth and final stop for Perform Better's Educational Series.
Perform Better launched the first-ever Functional Training Summit nearly 20 years ago in Providence Rhode Island. The Summit attracts the highest level coaches in the industry such as, Michael Boyle, Martin Rooney, Lee Burton, Gray Cook, Todd Durkin, Marc Lebert, Emily Splichal, and Todd Wright, just to name a few. "Education is the foundation of the Functional Training Summit," said Erin McGirr of Perform Better. The Summit is built around lecture courses followed by hands-on courses. "Hear it, see it, teach it. I love the format." expressed an attendee in Chicago, IL.
Rollga has been touring with the Perform Better team since the start of 2017 in Orlando, Florida. "It is humbling to be invited on this tour," says Rollga's co-owner, Timothy Schmidt. "To be able to share the stage with legends in the industry is an honor." Rollga's mission is to restore movement to the world. The Rollga roller is a functional training roller with grooves that are meant to avoid contact with the achilles tendon, femoral head of the hips, the spine and shoulder blades. "The cross-directional pressure is unique," expresses Schmidt, "Rollga applies targeted pressure around the ankles, hips and thoracic regions of the body." Rollga will provide an educational session in Long Beach at 12:15pm on Saturday August, 26th 2017. Watch for the Rollin' Groovy Total Body Massage Course.
There is still time to register to attend Perform Better's Functional Training Summit.
Registration is Open
More about Rollga:
The Rollga foam roller has a cross-directional design to stabilize the hips, align the back, and increase range-of-motion. The Rollga foam roller is ideal for muscle recovery, fascial health, and functional restoration of movement. Ordinary foam rollers cause discomfort and pain due to the unfitting design. This groovy foam roller is designed and contoured to fit your body and reach trigger points that are difficult to reach with an ordinary roller.
More about Perform Better's 3-Day Functional Training Summits
Perform Better's Functional Training Summit is designed to provide trainers, coaches and therapists with a combination of lectures and hands-on learning experiences with many of the top professionals in the industry.