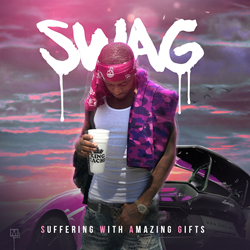 New York, NY (PRWEB) August 02, 2017
Harlem-born recording artist King Cachi recently released his latest mixtape project, "SWAG (Suffering With Amazing Gifts)". The new mixtape features production from Taylor Mayde, LaChaleur, Turnt Up Term, Deon, KashBeats, and more. "SWAG (Suffering With Amazing Gifts)" is currently available to stream and download through Coast 2 Coast Mixtapes.
Who is King Cachi? A 24 year old whose appreciation for the art of music with a desire to put his city back on the map! Born and raised from Harlem Cachi was inspired to start writing after the tragic loss of his mother at the age of five. At the tender age of twelve he was taken away from his father and placed into child services, he proceeded to see that he quickly needed to fend for himself survival at all cost. Cachi stayed with friends and the limited family members he had until he was placed in foster care for 3 years this time taught him to care for self and always hold head High and to never show weakness make your situation seem better than reality so people won't treat you differently and eventually stayed in shelters to escape those who he thought cared for him but later turned their back on him the same way his father did. Cachi says proudly the struggle made me!! Individuals with privilege lives don't understand reality of life when life's pressures get to them they want to quickly give up. Cachi struggle has motivated him become hungry for everything he deserves and he is determined to achieve greatness. When he lived in the shelter turned to the streets where he learned to be a man first he invested his income into his brand called million dollar babies that included ASAP Rocky. The group dissipated and Cachi formed his own team known today as Picachi Boyz.
Cachi has his trademark "Cachi Dance" and also his stylish scarf and tantalizing lyrics to separate him from many artist out today. His mission is simply to become the world's greatest entertainer and capture the hearts of his fans. Cachi is living proof that hard work pays off and yields fruitful results. King Cachi future is bright and goals are worthy of emulation, he desires to build and strengthen the community by solid foundations. The goals include building libraries and schools these changes will be possible because of his art, passion, style and energy.
About Coast 2 Coast Mixtapes:
Coast 2 Coast Mixtapes are the most widely distributed mixtapes in the world, with over 100 million downloads/plays generated by over 300 volumes officially hosted by major artists. Coast 2 Coast has a solid reach in the new music industry with a digital magazine, DJ coalition, industry tips blog, yearly convention, and more. Coast 2 Coast Mixtapes represents a unique opportunity for artists of all urban genres, from major to indie. For more information, visit http://www.coast2coastmixtapes.com