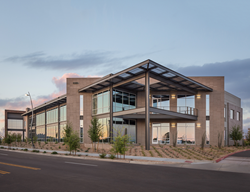 Varsity Tutors expects to reach 100+ employees in the Phoenix area by the close of 2017, with even more significant employee growth planned in 2018.
Phoenix, Arizona (PRWEB) August 08, 2017
Varsity Tutors, the live learning company that provides access to more than 30,000 experts on its platform, announced today that it is significantly expanding its sales and customer support team and footprint in the Phoenix area. Working on behalf of Varsity Tutors, the Phoenix office of JLL has completed a new lease that will relocate the rapidly growing company from its current Scottsdale location to 40,000 square feet within Rio2100 in Tempe. The new location will serve as a national sales and customer support center.
Varsity Tutors connects students to experts for online, mobile, and instant instruction via its award-winning digital platform, as well as to in-person experts nationally. Named the 15th most innovative company in America by Entrepreneur, Varsity Tutors expanded into Arizona in September 2016.
After opening a sales office in Scottsdale with 25 employees, the company has since hired 50 additional team members. Varsity Tutors expects to reach 100+ employees in the Phoenix area by the close of 2017, with even more significant employee growth planned in 2018. Its new team members will fill open roles in sales, customer care, and operations. A list of positions that are currently available can be found at https://www.varsitytutors.com/careers.
JLL Executive Vice President Ryan Bartos and Associate Kyle Seeger represented Varsity Tutors in the lease transaction. JLL's Project and Development Services team will direct all tenant improvements.
"The company's new national sales office and customer support center will give them the right space, in the right location, with the right amenities to continue to attract and grow with the area's best employees," Bartos said. "The new office will feature highly functional floor plans and 18-foot ceilings, allowing for a dynamic space that reflects the company's culture of collaboration and continuous learning."
Founded in 2007, Varsity Tutors' teams also operate from offices in St. Louis, MO, Seattle, WA, and Victoria, Canada. Its live learning platform connects students and professionals with personalized instruction in more than 1,000 subjects and tests, and clients have accessed more than two million hours of live, one-on-one instruction to date. After shifting away from a solely offline model, the company continues to redefine tutoring and expertise transfer. In 2015, it raised $50M in funding from Technology Crossover Ventures, Adam Levine and others.
"We continue to invest in Phoenix given the amount of sales talent and the highly educated workforce," said Chuck Cohn, Founder and CEO of Varsity Tutors. "We've built a tremendous team in our Phoenix office, and it will be exciting to see that culture evolve as we grow our presence here."
Located within the 52-acre mixed-use Rio2100 project, Varsity Tutors employees will be minutes from the Loop 101 and Loop 202 freeways, downtown Tempe/Tempe Town Lake, Phoenix International Airport, and the main campus of Arizona State University. Rio2100 is also within walking distance of two business hotels and the one million square feet of retail, restaurants, and entertainment at Tempe Marketplace.
About Varsity Tutors
Varsity Tutors is a live learning platform that connects learners with personalized instruction to achieve any goal. To date, users have accessed more than two million hours of live instruction on the platform. Additionally, through the company's free online learning tools, mobile applications and books, Varsity Tutors has created an ecosystem of more than 200,000 free practice questions, answers and explanation sets across more than 150 subjects and standardized tests. Varsity Tutors was founded in 2007 at Washington University in St. Louis. For more information, visit https://www.varsitytutors.com.
About JLL
JLL (NYSE: JLL) is a leading professional services firm that specializes in real estate and investment management.
A Fortune 500 company, JLL helps real estate owners, occupiers and investors achieve their business ambitions. In 2016, JLL had revenue of $6.8 billion and fee revenue of $5.8 billion and, on behalf of clients, managed 4.4 billion square feet, or 409 million square meters, and completed sales acquisitions and finance transactions of approximately $136 billion. At the end of the first quarter of 2017, JLL had nearly 300 corporate offices, operations in over 80 countries and a global workforce of more than 78,000. As of March 31, 2017, LaSalle Investment Management had $58.0 billion of real estate under asset management. JLL is the brand name, and a registered trademark, of Jones Lang LaSalle Incorporated.
In Phoenix, JLL is a market leader employing more than 560 of the region's most recognized industry experts offering office, industrial and retail brokerage, tenant representation, facility and investment management, capital markets, multifamily investments and development services. In 2016, the Phoenix team completed 34 million square feet in lease and sale transactions valued at $1.5 billion, directed $105 million in project management and currently manages a 25.2 million-square-foot portfolio. For more news, videos and research resources on JLL, please visit http://www.jll.com or http://www.jll.com/phoenix.