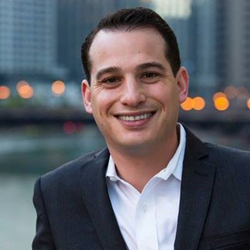 Chicago, IL (PRWEB) August 02, 2017
BenchPrep™, a comprehensive learner success platform company, today announced the appointment of Jon Aderson as its Director of Marketing. Aderson joins the BenchPrep team and will be responsible for developing and deploying BenchPrep's marketing strategy. With over 11 years of diverse marketing experience, Aderson has led product, content, digital, email, and event marketing programs throughout his career.
Aderson was most recently the Senior Marketing Manager for ArrowStream, a Software-as-a-Service organization, where he was responsible for leading its marketing department, along with public relations and business development. Having served as a Senior Content Marketing Strategist at Cars.com before coming to ArrowStream, Aderson brings a strong tech marketing background to BenchPrep.
"We are thrilled to have Jon join BenchPrep as our Director of Marketing," said Ashish Rangnekar, CEO of BenchPrep. "Jon's well-rounded marketing and strategic development experience with technology solutions make him the ideal fit for our growing team. We have set forth aggressive growth plans for the organization in the next couple years, and with Jon in place now to define the marketing strategy and drive heightened awareness of our offerings, BenchPrep is that much closer to achieving our revenue goals."
BenchPrep has been grown substantially recently, having increased its revenue 7x since in the last 2 years. The company is now rapidly increasing its number of employees too by almost doubling its workforce over the last 12 months.
BenchPrep's platform is designed to help credentialing bodies and assessment companies better educate their learners by streamlining content management, educator tools, dashboards, reporting and e-commerce into one comprehensive solution. Learners also get the flexibility to prepare at any time or anywhere, across all devices. Complemented by gamification, the result is an unmatched user experience that's simple, personalized, and fun.
"BenchPrep has a bold and aggressive vision that appropriately aligns with its groundbreaking technology," said Aderson. "There is real opportunity for BenchPrep to drive significant, positive change in the professional learning space. I'm looking forward to doing my part and helping the organization achieve its growth plans."
About BenchPrep
Based in Chicago, BenchPrep is the only comprehensive learner success platform on the market and recognized as an expert in learner success globally. The company's innovative solutions are disrupting the exam prep and continuing education market by providing an unmatched learner experience. Some of the largest assessment companies including ACT, HR Certification Institute, Hobsons, McGraw Hill Education, CFA Institute, OnCourse Learning, GMAC, Infusion Nursing Society, Academy of Nutritionists & Dietetics and Houghton Mifflin Harcourt have partnered with BenchPrep to offer official exam prep or continuing education programs. More than 2.5 million learners have used BenchPrep to get their credentials, professional certifications and occupational licenses. To discover more about BenchPrep, please visit http://www.benchprep.com.