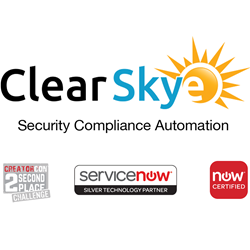 (PRWEB) August 23, 2017
Clear Skye Inc. (http://www.clearskyeinc.com), the company behind the identity governance solution Clear Skye Identity Lifecycle Management (ILM) for ServiceNow, today announced an integration partnership with OneLogin, a cloud identity and access management platform (IAM).
The growing volume of unique identities and applications, coupled with complex and often manual workflows for application provisioning and access monitoring, lead to inefficiencies and vulnerabilities.
With Clear Skye and OneLogin, ServiceNow customers benefit from fully automated, end-to-end lifecycle management based on their custom identity and application access policies. Clear Skye's ILM application for ServiceNow enables organizations to create customized access workflows and define individual approval elements, with a complete audit trial.
"Organizations constantly struggle to manage an overwhelming number of identities across the enterprise," explained Joe Romano, CEO of Clear Skye. "Often, this can seem like total chaos, and the growing volume of contractors and increased dependence on cloud technologies compounds the problem. Clear Skye ILM simplifies identity governance and risk management."
The joint solution enables automated user provisioning and deprovisioning to OneLogin's catalog of 5,000 pre-integrated apps. OneLogin also provides additional security functionality, which includes role-based access control, IP whitelisting, multi-factor authentication, and adaptive authentication to ensure identity integrity when anomalous behavior is detected.
"Businesses continue to adopt ServiceNow to build and execute intelligence workflows, and accelerate the pace of business," said Tim Gunderson, VP of Business Development at OneLogin. "Ensuring quick and easy access to these critical business tools, while simultaneously remaining compliant with industry mandates and best practices, is critical. We're excited to now enable ServiceNow customers to more seamlessly execute identity actions based on governance policies across all applications.
Clear Skye ILM is now available to ServiceNow customers via the ServiceNow Store.
About Clear Skye Inc.
Clear Skye connects people, process and technology through best in class security products and services on the NOW Platform™. Clear Skye ILM, an identity governance solution, helps organizations reduce risk by simplifying the complexity of managing enterprise access.
Clear Skye is headquartered in San Francisco, California.
For more information, visit http://www.clearskyeinc.com or LinkedIn.
About OneLogin Inc.
OneLogin brings speed and integrity to the modern enterprise with an award-winning single sign-on (SSO) and IAM platform. Their portfolio of solutions secures connections across all users, all devices, and every application, helping enterprises drive new levels of business integrity, operational velocity and team efficiency across all applications.
OneLogin manages and secures millions of identities around the globe. OneLogin is headquartered in San Francisco, California.
For more information, visit http://www.onelogin.com, their Blog, Facebook, Twitter, or LinkedIn.
Media Contact:
Joe Romano
Clear Skye Inc.
415-619-5001
press(at)clearskyeinc(dot)com