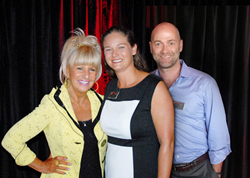 Mikki's insights and dynamic personality inspired us all to see our potential to become the best versions of ourselves.
(PRWEB) August 02, 2017
Global celebrity speaker, author, radio and TV personality Mikki Williams, CSP, CPAE stopped in Nashville on Wednesday, July 12, to inspire the team at local financial services company Advance Financial. Williams shared her "uniquely unordinary" perspective on laying the foundation of attitude, humor and enthusiasm and establishing goals and self-management techniques, among other topics.
"Life is made up of consecutive moments of 'Nowness.' Our decisions of today become our reality of tomorrow," Williams shared with the crowd. "Change is inevitable but growth is optional. It's amazing what we can do when we're forced to find our potential. Often it's a matter of putting things in proper perspective."
During her speech, Williams outlined key skills for success that lead to a balanced lifestyle, including gaining a clearer understanding of yourself, how your value system has shaped your attitudes and behaviors, and nurturing self-esteem in yourself and others. She introduced the team to "The Honker Habit," which is the bad habit of just honking your horn when something goes wrong, instead of getting out of your car and doing something about.
"Mikki's insights and dynamic personality inspired us all to see our potential to become the best versions of ourselves," said Tina Hodges, chief executive and chief experience officer for Advance Financial. "We will be able to use these tips in our stores to provide an even better experience for all of our customers. Our whole company thoroughly enjoyed Mikki's session. We greatly appreciate her coming to visit us in Nashville."
This experience is just one of the many growth opportunities that Advance Financial works to give its employees every year. By giving a world-class experience to its employees, the company knows they will pay it forward and deliver a high-quality experience to their customers.
About Advance Financial
Advance Financial, founded in 1996, is a family owned and operated financial center based in Nashville, Tenn. The company currently operates more than 80 locations throughout Tennessee and employs more than 800 local representatives. By focusing on a wide variety of financial services – including wire transfer, bill payment, unlimited free money orders and FLEX loans – they are committed to building long-lasting, strong relationships with every customer. Advance Financial recently earned an A+ rating from the Better Business Bureau and was named to the Inc. 5000 list of the fastest-growing private companies in the country for the fifth year in a row.