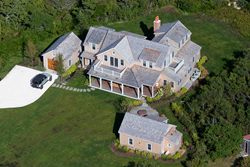 The owner of this family home will enjoy Nantucket charm in Madaket.
Nantucket, MA (PRWEB) August 04, 2017
Nantucket is a destination filled with gray-shingled houses, rose-covered gardens, dune-backed beaches and award-winning restaurants. Originally famed as the whaling capital of the 19th century, this island still maintains its old world charm, but with modern conveniences. Nantucket offers everything from palatial properties to charming cottages and is perfect for those seeking the epitome of luxury.
Every area of this 14-mile island is special and has its advantages, but one of the most desired is Madaket. The West End is famed for its sunsets, boating and beaches. One spectacular home in particular is 39 Tennessee Avenue. Built in 2013 by the Cheney Brothers, this home boasts sweeping creek and ocean views, a beautifully landscaped yard and a private dock, a Nantucket rarity. In fact, this home is only one of 36 homes that have a private dock on island.
The home features six en suite bedrooms, three floors of living space, spacious outdoor space, guest cottage and water access. Offering a state of the art kitchen, great room, private master suite and guest suites this home is perfect for guests and family to congregate or disconnect and rest. A finished lower level is also perfect for children or adults alike with over 1,000 square feet of play space, built-in bunkroom and additional guest rooms. 39 Tennessee Avenue is a unique island experience that is not easy to replicate anywhere else.
About Cam Gammill, Principal Broker – Fisher Real Estate
Cam Gammill has been in real estate since 2009 and quickly established himself as one of the top brokers on island. Having represented clients in over $150 million in transactions, Cam attributes his success to his ability to communicate and connect with people on a personal level.
About Fisher Real Estate
Founded in 2016, Fisher Real Estate Nantucket is a forward-thinking Nantucket brokerage, founded on personal relationships. At Fisher Real Estate, we know that the Island means something different to everyone, and we believe that there is a Nantucket home for everyone. More than just a piece of real estate, Nantucket is a lifestyle. For more information, please call (508) 228-4407, or visit http://fishernantucket.com. The office is located at 21 Main Street, Nantucket, MA 02554.