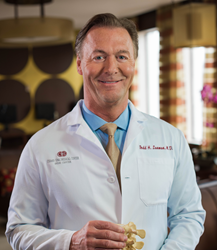 "They've had our backs for years and it's time we had theirs," said Dr. Todd H. Lanman
LOS ANGELES, CA (PRWEB) August 02, 2017
World-renowned spine surgeon Dr. Todd H. Lanman, founder of Beverly Hills-based practice Lanman Spinal Neurosurgery, has announced today the launch of The Lanman Foundation for Spinal Advancement and Innovative Health, his new charitable enterprise focused on advancing the science of spine health by expanding the spinal surgery community's perspective to full health and lasting mobility of patients, as well as providing much-needed surgical procedures to those who have been injured serving in the United States military and haven't been able to get the treatments they need.
As the principal investigator who oversaw the 10-year clinical trial beginning in 2006 and leading to the FDA-approved two-level cervical artificial disc replacement procedure with the Prestige LP device, and as the lead writer on the newly released 7-year outcomes, Dr. Lanman is prepared more than ever to go on to help create the next level in healing through his 4D Health Approach and The Lanman Foundation.
Lanman believes that the medical industry oftentimes simply corrects the issue at hand, but Lanman looks beyond that with long-term thinking about motion preservation that positively impacts his patients' quality of life and improves lives by preserving and restoring movement. Taking this into account, through his 4D Spinal Research Institute he will be integrating his comprehensive 4D health approach, which he uses daily in his own practice and has found to be the most beneficial for his patients, to source, assess, apply and distribute information to advance the overall knowledge of spine disorders in order to improve patient lives. Taking into account factors such as his patients' age, lifestyle, nutrition, hormone status, physical exercise regimen and overall health, he will evaluate and research how certain vitamins affect bone healing after surgery, how certain hormone supplements speed nerve, tissue and muscle healing and potentially accelerate recovery time of patients in physical therapy, weight loss and cardiovascular health playing a role in spine health, and may also implement possible stem cell and hormone trials, as well as do off-label artificial disc replacement studies.
The idea for launching The Lanman Foundation came to Dr. Lanman based on seeking to do more research that is considered out of the box to enhance his patients' lifestyles and preserve mobility and motion.
The foundation will also allow Dr. Lanman to provide care for young men and women who have been injured performing duties for the U.S. in various branches of the military, so that they may optimize spinal motion, without much of the pain they've been experiencing due to lumbar or cervical spine issues. Dr. Lanman intends to do his part to make a difference by seeking to support these veterans by providing them with no-cost back and neck surgery, whether it integrates transitional devices, such as the Coflex ®, for instance, or Artificial Disc Replacement (ADR) devices, such as the Prestige LP cervical disc replacement or the ProDisc in the lumbar spine.
According to the National Center for Veterans Analysis and Statistics and the United States Department of Veterans Affairs, there are currently more than 21 million veterans living in the United States. Approximately one-fifth of these veterans are disabled and about one out of 20 U.S. military veterans are uninsured.
Lanman says that they're often young people that have been involved with high altitude jumps, falls and other spinal injuries, often having been fused and with poor outcomes. His goal, he says, is to maintain or enhance spinal motion, as well as reduce pain, for the rest of their lives.
"Many of these veterans are broken and need help, which they often do not get through the VA," he says. In fact, early in his medical career, Lanman spent time working in the VA, training and in residency, at the Wadsworth Hospital, now known as the West Los Angeles VA Medical Center.
Lanman hopes that The Lanman Foundation will achieve at least four successful surgeries over the next year. His initial goal is to raise at least $10 million in funding through the foundation, in order to do so. He will select candidates ranging from the Special Forces, Navy Seals, Rangers and Delta Force, and men on special teams who need to receive surgery due to enduring extended periods of time in combat.
"They've had our backs for years and it's time we had theirs," Lanman said.
Those seeking to be considered can submit their case through the Foundation's website.
One of the world's leading innovative spine surgeons, Dr. Lanman has been a specialist in the advancement of spinal health and surgery for more than 25 years. He is a regular media contributor and has published more than a dozen peer-reviewed clinical articles. His clients include many high profile celebrities from the worlds of music, film, theater and television, as well as leading C-suite business executives from around the world.
Lanman Spinal Neurosurgery is affiliated with Cedars-Sinai Medical Center's Institute for Spinal Disorders, UCLA Medical Center and Saint John's Medical Center.
For more information on the Lanman Foundation, visit http://www.LanmanFoundation.com; and for Lanman Spinal Neurosurgery, http://www.spine.md.