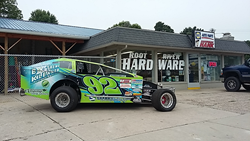 Minneapolis, Minnesota (PRWEB) August 02, 2017
With over two thousand miles racked up on the odometer, the Extreme Energy Solutions Sales and Promotions Team have been over the road to and throughout the Mid-west, delivering the message of how important it is to support your local family owned business, while introducing new environmental and sustainable products that are "Made in the USA," to be available to consumers via local partnered retailers.
The Extreme Energy Solutions 2017 Summer Tour of Stores is well under way with Extreme Kleaner representatives making stops in Wisconsin, Minnesota, South Dakota, Iowa, and Illinois before heading back to the East Coast. In total, stores in over five states will get a personal visit from the folks at Extreme Energy Solutions; a measure of good will on behalf of the product and its parent company. Extreme Representatives bring with them product samples to give out at selected store locations and the Official Extreme Kleaner Race Car, driven by Tommy Vigh Jr., will be on display at selected store locations.
Representatives of Extreme Energy Solutions will also be taking some time to visit with store owners at the United Hardware Buying Market Convention, held in Minneapolis, Minnesota, July 29, 30, and 31, 2017. Extreme Energy Solutions Representatives will be on hand to discuss with independently owned hardware store owners how to better promote and compete for potential consumer foot traffic in a world of vast consumer choices and big box store competition.
"The Purpose of the 2017 Tour of Stores is to promote awareness to local partnered retailer's audiences, clients, and fan base on the importance of why they need to continue to support their local family owned neighborhood merchant, which is the pillar of America's economic driving force," commented Barry Smith, one of Extreme Kleaner's Representatives responsible for visiting the list of hosting stores. Smith explained, "Without small business, local jobs would not be made available to every Main Street corner."
"We are also very privileged to have an opportunity to partner with these stores in offering our products through these local venues. It has been a pleasant surprise how these stores have been giving us such a warm welcoming," Smith continued.
The 2017 Summer Tour of Stores is expected to last only a few weeks, as the Extreme Energy Solutions sales and promotion team marathons throughout the upper mid-west. Stores designated for scheduled visits during this tour include Root River Hardware Hank, located in Preston, Minnesota; Finland Co-op, Finland Minnesota; Balsam Lake Hardware Hank, Balsam Lake Wisconsin; Brick's Hardware Hank, Hortonville, Wisconsin; Moe's Hardware, Black River Falls Wisconsin; L&L Hardware, Coloma Wisconsin; Ted's Home and Hardware, Evansdale, Iowa; and Martin and Sons Hardware Hank located in Herscher, Illinois.
Layovers at the United Hardware Warehouse in South Dakota and attendance at the United Hardware Fall/Winter Buying Market Convention are also on the docket.
Each Hardware Hank, and affiliated brands of Trustworthy and Golden Rule Hardware Stores, are independently owned hardware stores. They are under contract with receiving their inventory from United Hardware, which supports the Hardware Hank and affiliated brands.
Extreme Energy Solutions first product introduced to the United Hardware Store network was Extreme Kleaner. Extreme Kleaner is a non-toxic biodegradable cleaner-degreaser manufactured in the United States, which originates from the Garden State, where it is packaged for consumers around the nation. Extreme Kleaner includes a new formula specific for glass, tile, windows, and sensitive surfaces such as countertops and appliances.
The second product to be introduced to United Hardware and their affiliated stores is H2O Energy Flow bottled water. This water is bottled at the source of an artesian well and is structured water, with a pH level of 7.8. H2O is packaged 24 bottles per case. This product is not yet available in states which require bottlers to participate in the Bottle Redemption Bill Programs.
Extreme Xtra Fuel Treatments will debut at the 2017 United Hardware Fall/Winter Buying Market Convention. This was one of Extreme Energy Solutions first products to hit store shelves in 2009/2010; however, the product was sidelined due to a rebranding exercise. During that time, the parent company renegotiated its vendor supply chain cost, thus having the ability to reduce the retail price of Extreme Xtra. Extreme Xtra Fuel Treatments are packaged in 16-ounce applicator bottle/dispensers, and are formulated for both gasoline and diesel fuels. One ounce treats 25 gallons of fuel.
A portion of every sale of Extreme Kleaner, H2O Energy Flow, and Extreme Xtra Fuel Treatments is dedicated toward assisting a non-profit cause. Former causes which received the benefit of this initiative includes Project Help, a cause aimed at helping Veteran Homelessness; STEM Education, the performing arts, and educational non-profit educational forums for environmental and economic sustainability. The product's parent company, Extreme Energy Solutions has also helped sponsor local 5k runs for many good causes.
"We are honored to partner with independently owned Hardware Hank, Trustworthy Hardware, Golden Rule Lumber, Ranch and Pet Supply, and other United Hardware affiliated stores. We appreciate the dedication and commitment these stores have in creating value for Main Street, and we are very thankful for the chance to help promote both Hardware Hank stores and our product," provided Samuel K. Burlum, CEO and President of Extreme Energy Solutions.
"We also want to thank the Corporate Staff of United Hardware for their continued assistance and patience as we work together to create brand awareness for each organization," Burlum finished.
Extreme Kleaner has launched its new website, http://www.ExtremeKleaner.com which provides all the locations of the partnered retailers who now offer this product.