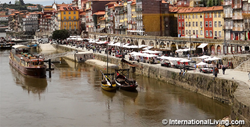 Not only did their day-to-day lifestyle improve—enhanced by warm weather, friendly locals, and beautiful surrounds, but their cost of living plummeted at the same time.
Baltimore, MD (PRWEB) August 02, 2017
Long an under-the-radar destination, today Portugal's low costs, rich culture, historic towns, warm weather, and varied landscapes are attracting American retirees in increasing numbers, according to a new report from the editors of International Living.
Five years ago, International Living Correspondent, Tricia Pimental and her husband moved to Portugal. Not only did their day-to-day lifestyle improve—enhanced by warm weather, friendly locals, and beautiful surrounds, but their cost of living plummeted at the same time.
"Keith and I immediately saw our expenses fall to between one-third and one-quarter of what they were back in the U.S. The truth is, almost everything in Portugal is less expensive."
The strong U.S. dollar means great bang-for-buck for Americans traveling to and living in Portugal today. Right now, greenbacks go further than they have in years. "Thanks to the strong dollar, we can live in a four-bedroom, four-bathroom home with a bonus churrasqueira, a separate structure with built-in barbecue," says Pimental. "This would easily translate to about $3,000 in the Indiana suburb where our son lives; here we pay a mere $988."
Tricia is hardly the only American to fall for Portugal's charms. Expat Jamie Sung rented a charming old house in the historic northern city of Porto. "Including expenses it cost about $780 per month," she says. "For someone who was paying $1,500 per month for a room in a two-bedroom apartment in Santa Monica, California, this dramatic decrease in living expenses allowed me to spend less time working just to pay the rent, and more time actually living and experiencing life."
"No matter how many times I buy fresh produce, I am still pleasantly shocked every time I get the bill. For about $5.50, I can walk away from a family-owned local produce shop with a bag full of bananas, grapes, pears, apples, kiwis, plums, garlic, spinach, onions, carrots, and cabbage," says Sung.
When Susan and Craig Korthase left their Wisconsin home and reached the small coastal town of Cascais, they knew that Portugal would become their new home in every sense of the word. "Our hearts said so," Korthase explains. "We snapped pictures of properties with for sale or rent signs, stopped in at a property finder and walked until sunset to get our bearings. We talked to everyone at restaurants, shops and on the seaside promenade."
The language difference doesn't pose a problem for them, Korthase contends. "American English is prevalent where we live," she says. "And when we travel inland, you'd be surprised how much of a foreign language you can 'understand' by acting things out or watching people's expressions."
Earlier this year, International Livings Annual Global Retirement Index ranked Portugal the most affordable destination in Europe. According to the editors' report, a couple can live comfortably there for $2,200 in Lisbon, the capital, and for even less in smaller communities.
"Portugal was long overlooked by American travellers and retirees who knew of the charms of Italy, France, and Spain," says Jennifer Stevens, International Living's Executive Editor. "Portugal just wasn't on people's radar screens, but that's begun to change. The country has seen a sharp uptick in tourist traffic, and it's been getting lots of positive travel-media coverage, which is ushering it into the mainstream. Now is an excellent time to check it out. The strong dollar today makes Portugal one of the best-value destinations in Europe for anybody shopping with greenbacks.
"And while Portugal provides strong, modern infrastructure like good roads, high-speed internet, and reliable healthcare—that comes bundled with excellent food and spirits... gorgeous cobbled cities and medieval towns...and dramatic coastal landscapes. It really has been Europe's best-kept secret."
This is Europe as it used to be, resident expats contend. And though modernity is overtaking Portugal quickly, it's still possible to enjoy an Old World life there on a low budget. International Living's International Executive Editor Eoin Bassett, who's spent time scouting the country's retirement hotspots, describes Portugal as "the last true bastion of Old World living in Western Europe. Decades of rule by a conservative dictator named Salazar preserved a lifestyle that's disappearing elsewhere. It's a country where an Englishman or a German can find a reflection of how life used to be back home."
International Living's complete guide to Portugal can be found here: Portugal Guide.
Editor's Note: Members of the media have full permission to reproduce the article linked above once credit is given to InternationalLiving.com.
Further information, as well as interviews with expert authors for radio, TV or print, is available on request. Photos are also available. To learn more please contact InternationalLiving.com Associate Editor, Carol Barron, tel. (772) 678 – 0287, e-mail: CBarron(at)internationalliving(dot)com
For 37 years, InternationalLiving.com has been the leading authority for anyone looking for global retirement or relocation opportunities. Through its monthly magazine and related e-letters, extensive website, podcasts, online bookstore, and events held around the world, InternationalLiving.com provides information and services to help its readers live better, travel farther, have more fun, save more money, and find better business opportunities when they expand their world beyond their own shores. InternationalLiving.com has more than 200 correspondents traveling the globe, investigating the best opportunities for travel, retirement, real estate, and investment.