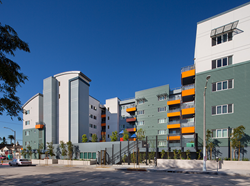 Promise Energy's commitment to exceeding energy standards at Selma Community Housing benefits both Abode Communities, and especially, the residents who call Selma home.
Hollywood, CA (PRWEB) August 08, 2017
Selma Community Housing, a vibrant residential development in Hollywood featuring 66 affordable family homes, achieves LEED® for Homes Platinum certification thanks to a Solar Water Heating system installed by Promise Energy. This system offsets 42% of the annual energy consumption for water heating, a savings equivalent to avoiding burning 12,000 pounds of coal or 1,300 gallons of gasoline each year.
"Promise Energy's commitment to exceeding energy standards at Selma Community Housing benefits both Abode Communities, and especially, the residents who call Selma home," remarked Robin Hughes, President & CEO of Abode Communities. "Much like our other communities developed in partnership with Promise Energy, our investment will lower operating costs and reduce environmental impact on the community at large."
The transit-friendly site, developed by Abode Communities on land owned by the Los Angeles Unified School District, is located adjacent to Selma Elementary School, and will provide much needed affordable housing for LAUSD teachers and employees. The project transformed a simple parking lot into a five-story, transit oriented development (TOD) within walking distance of the Metro Hollywood/Highland Red Line station. This improves environmental health by providing affordable living closer to the schools where employees work, and increases accessibility to public transportation. By allowing residents to live, work, and play within their local community, this innovative project helps reduce commute times, and lower Hollywood's carbon footprint.
"Promise Energy is thrilled to be working with the outstanding team at Abode Communities on a project that will have positive impacts on so many critical issues including housing, education, transportation, sustainability, and climate change," says Adam Boucher, CEO of Promise Energy. "This project turns a parking lot into a community asset that will change lives for decades to come. It's the kind of project we're honored to be a part of."
"Incorporating sustainability measures on affordable housing developments helps reduce long-term operating expenses for building owners, saving tens of thousands of dollars that can be used to provide resident services and building upkeep. The highly efficient system we installed didn't just help the project earn LEED Platinum certification, it will save Abode Communities over $3,000 on their natural gas bill every year for decades to come," said Jonas Villalba, VP of Business Development at Promise Energy.
Besides being sustainably equipped to meet the growing threat of climate change, the Selma project highlights the huge need for affordable housing in Los Angeles. Over 1,500 renter applications were received for the 66 units. According to a recent LA County renters report, Los Angeles needs over 550,000 more affordable rental homes to meet the needs of its lowest-income renters. The project was funded through a combination of low income housing tax credits and federal loan programs, including the California Department of Housing and Community Development Transit Oriented Development (TOD) program.
"The problem is, Los Angeles can't meet our sustainability goals when people need to drive two or more hours for work each day. And we can't meet our affordable housing goals without building energy efficient homes that combat the rising costs of energy. So by building sustainable, affordable housing close to transit, we're targeting both these challenges with the same project. It really is a win-win for everyone," said Andy Mannle, VP of Strategic Development for Promise Energy.