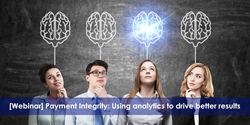 Itasca, IL (PRWEB) August 02, 2017
Discovery Health Partners, a provider of payment and revenue integrity solutions for healthcare payers, will host a webinar August 8, 2017, to share the principles of data science that are transforming the way payment integrity processes are managed, with measurable impact on recovery results. Titled "Payment Integrity: Using analytics to drive better results," the webinar features Discovery healthcare payment integrity and analytics expert Steve Forcash, Vice President of Analytics.
The webinar will explore how principles of data science are being applied to real-world payment integrity processes and offer actionable steps for getting started with an analytics agenda:

What levers are available in the typical payment integrity business process
How data science techniques ensure we pick the right cases, helping maximize client savings while minimizing member and provider abrasion
How to identify capabilities that are largely transferable across payment integrity functions
How advanced analytics can position postpayment solutions for a shift to prepayment or hybrid pre/postpayment solutions
Seats remain available for this free webinar. To register for the webinar, visit
http://bit.ly/Payment-Integrity-Webinar
.
About Discovery Health Partners
Discovery Health Partners, a division of LaunchPoint, offers payment and revenue integrity solutions that help health payers improve revenue, avoid costs, and enhance the member experience. We offer a unique combination of deep healthcare expertise and analytics-powered technology solutions to help our clients improve operational efficiency, achieve financial integrity, and generate measurable results. More information about our solutions, including Coordination of Benefits, Eligibility, Medicare Secondary Payer Validation, and Subrogation is available at http://www.discoveryhealthpartners.com.